Picture-Perfect Pilates: Elevate Your Brand with Stunning Photography
Pilates Photoshoot Guidelines
Access the Guide Here
IF you want to get something done, GET IT DONE RIGHT THE FIRST TIME.
Get a website that will GROW your PILATES business without draining your budget.
Transparent and honest pricing for every budget. We do our job so that you can keep more money in your pocket.
High converting website built to rank well on Google, Bing and Yahoo. No more losing customers because nobody can find you.
Easy maintenance: update the website yourself or let us handle all updates for a minimal monthly fee.
We speak "Pilates" and will guide you every step of the way from creating a design that represents your unique style to launching an online marketing campaign to make your Pilates business flourish.
Contact Us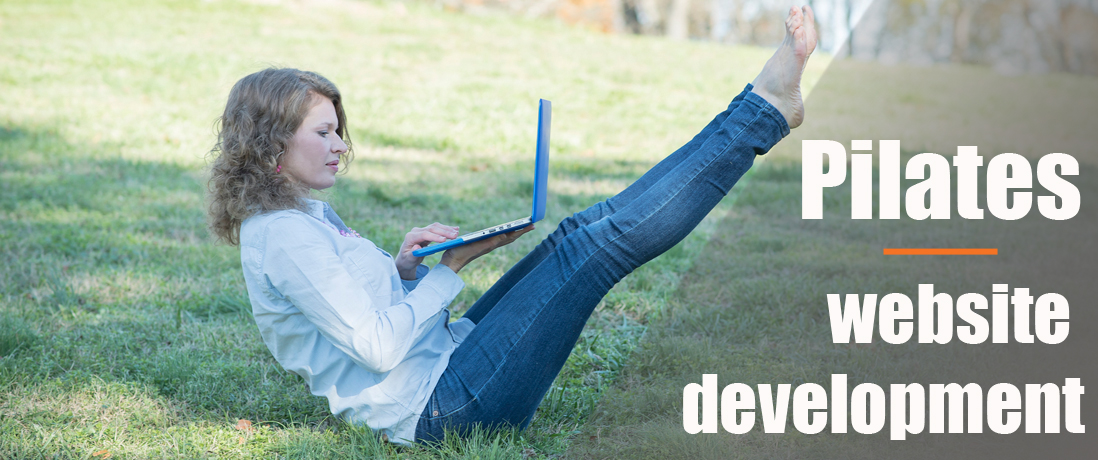 Pilates Principles as applied to YOUR website built by PilatesBridge
PRECISION
or search friendly
Each part of the website is meticulously optimized for the best performance in search engines so that potential students can find the great Pilates sessions that you offer.
FLOW
or responsive design
Website that looks and performs great on any device in any orientation - the flow of the Pilates practice gets transformed into the flow of the Pilates website.
CONTROL
or flexible budget
Whether you need full control and custom design or a free website that you can manage on your own - we have a perfect website solution for your Pilates budget.
CENTERING
or smart website
The core of all our designs is WordPress - the most powerful and popular CMS that you can use to update the website yourself (no extra fees!)
CONCENTRATION
or show your style
Customize your website to stand out among competition and reach your ideal clients - bring your unique Pilates style online.
BREATH
or easy language
You can breathe easy when working with us. We speak your language - Pilates.
Now let's get in touch!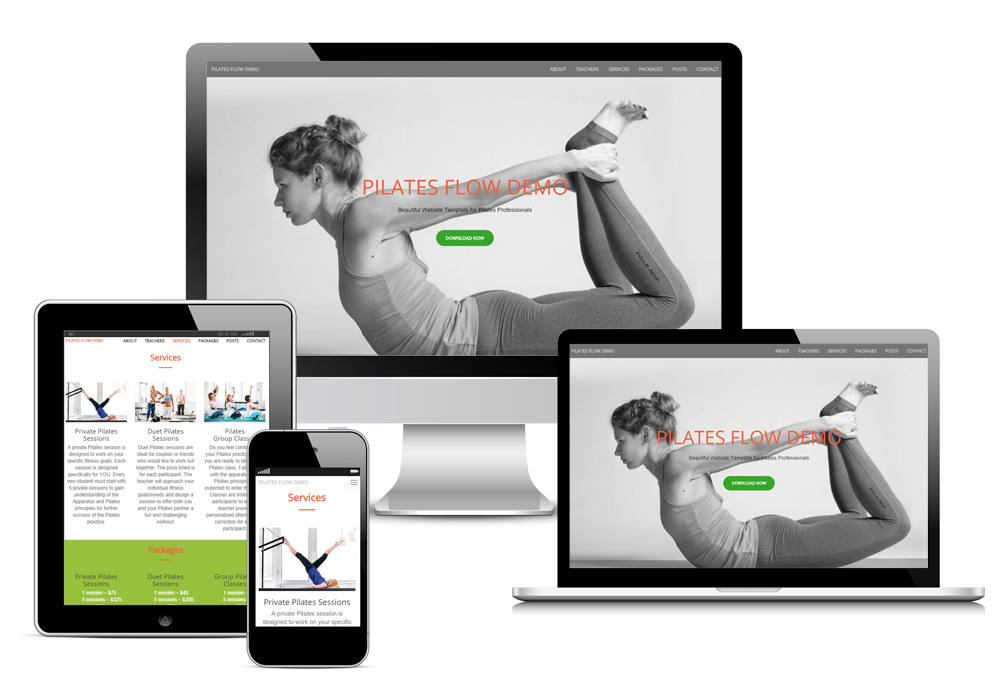 Studio Website
Studio website is the first impression that new clients will get about your business. Make this impression unforgettable by showing your teaching style, your studio atmosphere and amazing benefits of Pilates for their life.
Important website features:
Contact details and location.
Session descriptions and rates.
Studio Schedule
Studio description and teacher bios.
Optimized for best search engine performance (get found on Google, Yahoo, Bing etc.)
Newsletter sign-up.
Blog (optional) to kindle connection.
Individual Instructor
Build your private client base and protect yourself as a teacher. No matter where your teaching takes you (to a different studio or even to open your own practice), a website will help you stay connected with your current clients as well as get new ones along the way.
Contact details and social media profiles.
Pilates resume to be viewed by students and studio owners.
Display teaching schedule based on multiple locations and in-home training.
Start a blog to share your Pilates vision and grow your career.
Home Studio
Get new local students through online searches and amplify the reach of word-of-mouth advertising. Website is the most powerful form of marketing for a home studio owner.
Display rates, policies and available times.
Privacy: Use contact form details to research new clients before inviting them into your home.
Grow client base through social media promotions and client referrals.
Increase Pilates revenue by offering virtual Pilates classes or selling Pilates-related accessories.
Pilates is graceful and beautiful. Managing your website should be too.
Choose Website Solution for Your Pilates Budget

The Reformer
because it is the most popular one
Full website starting at $2800
Semi-custom design based on a template customized with your logo, colors, fonts and images
Mobile-friendly design
5 Pages included: Contact, About, Rates, Schedule, Class Description or choose your own
Blog setup
Social media integration
Tutorial on how to use the website
Contact Us


The Cadillac
because it is personalized
Custom Design starting at $4400
Mobile-friendly design
10 Pages included
On-page SEO
Blog setup
Social media integration
Tutorial on how to use the website
Newsletter integration (your provider of choice)
Contact Us
Add-Ons
No-Headache Plan
If you are a busy Pilates business owner who doesn't have time to mess with a website then this plan is for you. For just $55/month you get PilatesBridge PRO membership with a listing in our interactive directory and we make any necessary updates to keep your website healthy and happy. This monthly fee also includes a 1-hour consultation or update every month (it will cover text updates, change of contact details, schedule changes, new image upload, or publishing of 1 blog post a month etc.)
Your can cancel your monthly subscription at any time and take full control of your website.
Search Engine Optimization
Websites built through the Cadillac or the Reformer website packages come with basic optimization for search engines. However, we can provide additional services to increase search engine rankings of your current website or create a detailed SEO strategy for your website.
Google Local Setup
If you are running a studio in a commercial space then it is crucial to add your business to Google Maps/Local Results to increase online visibility. We can help you set up professional email accounts that run through Gmail, configure your local listing and integrate Google Analytics into your website.
Custom Features
Our flexible website solutions let you create any website that will make your Pilates business shine. Contact us to discuss any special features that you might want on the website including image sliders, video galleries, protected member area, event scheduling and much more. If you can dream it, we can build it!
Website Tune-up
Do you have a website that needs a bit of TLC? Contact us to discuss specific features that you would like to see upgraded on your website without investing in a full redesign.
Schedule a FREE Consultation
Recent Works
PilatesFlow Template Based Designs
Anastasiya has helped me bring my website to the next level!
I greatly appreciated her expertise, responsiveness, creativity and guidance throughout the entire process. It was a real pleasure to work with her.
Thank you Anastasiya for your excellent work.
Cinthia Roberge, owner of Studio FITLAB
Design based on the PilatesFlow Website Template
Custom colors and fonts
One page layout for a modern look
Search engine optimization
MindBody Online integration
Custom design elements
Working with Anastasiya has been easy and seamless. I greatly appreciate the creative energy and attention to detail that helped to update my website and presence on the internet. Thank you!

Claire Vogt, owner of Mindful Bodi Movement Center
Website redesign using the PilatesFlow website template
Multi Page layout
MindBody Online integration
Custom design elements for pricing and class descriptions
Custom Website Design
When my husband and I were starting our Pilates studio, we had a clear vision as to how we wanted our site to look and feel. We must have interviewed five web designers before finally finding Anastasiya. Not only did she fully understand what we were going for as far as the look of the website, but to our surprise, she was also a Pilates instructor herself, which made all the difference. She brings her creativity as a designer and knowledge about Pilates to her work. She also gave us a lot of suggestions and ideas. A true professional, easy to work with and she gets things done quickly. I would highly recommend Anastasiya to anyone who wants a beautiful website.
Varvara Kalininin, owner of Perfect Posture Pilates
Custom Design
MindBody Online integration
Modern floating menu bar design
Mobile-friendly layout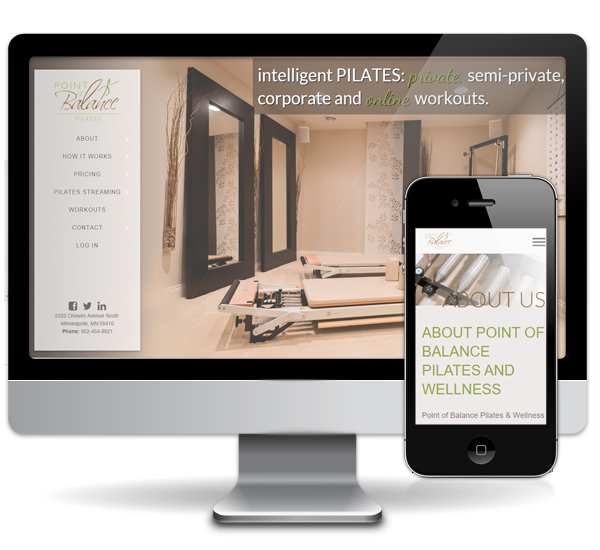 My Point of Balance Pilates Studio

Anastasiya was such a joy to work with. Actually, she "is" a joy to work with. Current day, she still helps me with my website updates, maintenance and all of my random questions since my website went live years ago. I would highly recommend her website design services. She is professional – She knows her stuff! And she presented it in a way without any intimidation. Anastasiya was patient with me, yet kindly kept me on task without being pushy, resulting in a fabulous website, finished within the time-frame we agreed upon. I will continue to use her expertise for years to come 🙂

Courtney Klocke, owner of My Point of Balance
Complete Website redesign
One page layout for a modern look
PayPal integration to purchase packages online
Special feature: membership integration for Pilates Video Streaming service
Pilates Video Gallery
Anastasiya delivered beyond my expectations. She took my wishes of wanting a dynamic looking website that transmitted a sense of quality, mixed them with her talent for visual design, and executed in very little time a website that I am now very proud to show and direct people to.
However, in the end it is numbers that count. Within days of launch, the subscription rate of my site increased drastically (113% increase!)
Brett Miller, Pilates teacher and PilatesIntel editor
Custom Blog Redesign to increase conversions
Pilates shop integration
Custom banner design for key elements of the website
Calendar of events integration to showcase Pilates workshops
Strategic placement of call-to-action messages to increase newsletter signups
Having had the good fortune of working with Anastasiya for the past twelve years, I can not speak highly enough of her skills, creativity and solutions. Through my entrepreneurial incarnations as yoga instructor, yoga therapist, psychotherapist and online meditation facilitator — Anastasiya has been readily available, full of innovative ideas, flexibly working within budget, while providing effective and contemporary designs and marketing recommendations that met my growing needs. She is absolutely delightful to work with. I am grateful to call Anastasiya my web guru.
Lisa Rosof, Yoga teacher and therapist
Custom Layout
Homepage slider design
Logo Design
Video integration
Inquire about a website
Why do you need a website for your Pilates business?
A professionally looking website is a must in today's business world.
It lets potential clients have a feel of your studio before they even step inside your door.
It shows your clients that you treat every aspect of your business seriously so you will do the same when you are teaching them.
The images and your class descriptions are often a decisive point when a potential client compares different studios in the area.
Special functions of your website like a client login area or a newsletter sign-up form promote client retention and loyalty.
A website lets out-of-town visitors find your studio and visit you when they move into the area or travel.
Your Pilates website is often the first impression that people get about your studio or about you as an instructor.
A website representing your Pilates business should be easy to navigate for your current and potential clients and should embody your Pilates vision and style.
You can be in full control of your website or you can let us manage it for you. Choose the solution that works for you and let us handle the rest.
Non-Pilates Websites
We specialize in building websites for Pilates instructors and studio owners but we also love working with other mind body professionals. We would love to build a website for your
Yoga studio
Counseling/Therapy practice
Physical Therapy clinic
Massage Center
Life and Wellness Coaching Business
Personal blog.
Your Pilates business is unique. Your website should be too.