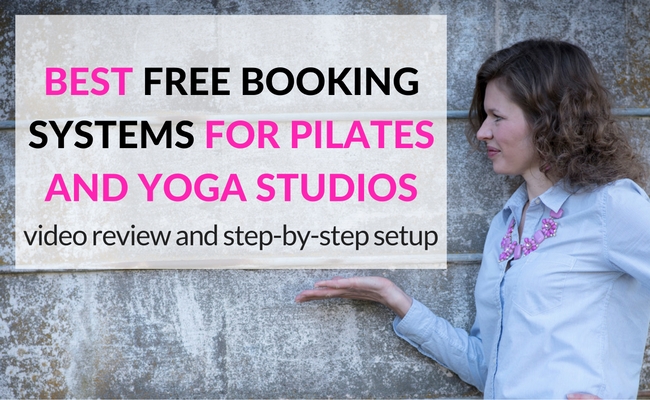 Do you need more clients on your schedule? Or do you need to cut back on your business expenses to generate more profit? Adding a FREE (or low cost) booking system to your website or Facebook page will help you reach both of those goals.
Regardless of how big or small your Pilates business is (working from a home studio, teaching at several community locations or running a fully stuffed studio) your website can benefit from a scheduling system to funnel website visitors directly into your client list.
Displaying a booking form on the website makes it EASIER for new and current clients to sign up for sessions. Today people expect fast and easy ways to complete their desired action whether it is booking a Pilates class or ordering the latest gadget from Amazon. When you are asking a client to call or send an email you are adding an extra hassle that many people are not willing to go through. By the time you return their call or reply to the email they might have contacted another studio or have simply lost their immediate interest in your services.
For a long time MindBodyOnline was the only booking system that was robust enough to provide all of the necessary options for studio owners. However, the price point ($45/mo at the moment of writing this article) has kept it out of reach for many small studios and individual teachers. Today I want to show you 4 FREE Pilates booking systems (for a basic account) that can be used for a variety of business models. Whether you are teaching from your home studio, offering classes at different locations or offer multiple services (e.g health coaching and Pilates sessions) these systems can help you grow your business and simplify your schedule.
Quick Overview of the Best Free Mind/Body Booking Systems
Video Review and Setup of the Best Pilates/Yoga Scheduling Systems
The video review of each system does not only talk about the main features but also shows step-by-step instructions on how to set your schedule up. Both pros and cons of each system are taken into consideration so that you can pick the best option for your Pilates or Yoga business. Also do not forget to check out live scheduling demos that are available for PilatesFlow website template (the template is free to use for all PRO members of PilatesBridge.) Link for each demo is provided under the video review.
#1. Schedulicity – Best Look and Biggest Bang for $0!
Visit Schedulicity
Schedulicity Demo
Schedulicity is a booking system that offers the most features with a free account. You can access all premium features right away (except text reminders) and test the system for your business.The free account is valid for up to 20 appointments a month which could be plenty for a home studio owner. The classes are FREE for the life of the account regardless of how many participants you have in each class.
Overall Schedulicity has the best looking and most intuitive design of the booking page that integrates seamlessly with any website (no need to pay extra for this!)
Another amazing aspect of Schedulicity is their award-winning support. I contacted them via chat several times when I was learning the system and received a detailed response from a real person within just 10-15 minutes.
Schedulicity just like MBO has its own app and will promote your services in their local databases. It could be a good marketing tool to pick up a few extra clients.
Another aspect of the system that is truly helpful is the integrated newsletter. You can send out emails with promotions and any special announcements directly from your admin panel, at no extra cost. You can save $20 and up each month because you do not have to pay for another email delivery service. The downside is that the packages are not available right now but this functionality will be added later this year.
Basic Account
FREE
Client self scheduling
20 Monthly Appointments
Easy website integration
Unlimited classes and workshops
Email reminders
Take payments (Beta version)
Send marketing emails to clients
iPhone app to manage bookings on the go
Easy booking process for clients
Calendar sync
Amazing customer support
Paid Account
(starting at $20/mo)
Text reminders
Unlimited appointments
Multiple staff members and locations
#1. Acuity Scheduling – Best Features Overall
Visit Acuity Scheduling
Acuity Scheduling Demo
Acuity Scheduling is a powerful booking system that has all of the features that a Pilates studio owner might need. Each plan comes with a free 14-day trial period so you can decide if it is right for you. You can even get started with a 100% free account. You will not be able to take payments, send out text or email reminders or embed the system into your website but you you can still use core features of this booking system.
You can upgrade to a paid plan at any time and keep all of your settings so that your Pilates system can grow with you. The $19/mo plan will offer most studios all of the features that they need that including running multiple classes at the same time, having several staff members and sending out email and text reminders. The added bonus of the system is that you can integrate it with Quikbooks and Freshbooks to streamline your accounting.
Basic Account
FREE
Client self scheduling
Unlimited appointments and services
14-Day FREE trial of all features
No tech support
Paid Account
(starting at $10/mo)
Automatic reminder emails and texts
Accept payments
Support for packages of services
Customized look
Multiple staff members and locations
Seamless website embed
Google Calendar sync
QuickBooks and Freshbooks sync
Newsletter sync
Email tech support
#3. Sagenda – Easy Setup, Unlimited Free Use
Visit Sagenda
Sagenda Demo
Overall Sagenda is a good starter scheduling system that has a potential to become a very powerful tool in the future. The biggest downfall is the fact that there is no backend booking availability so you should rely on your clients to register themselves OR you can register them yourself if you have all of their information. Unfortunately there is no simple one-click client registration option, no support for packages of services or newsletter integration.
The system is easy to set up in just 10-15 minutes and it will add basic booking functionality to any website or Facebook page.
The biggest plus on the other hand is the fact that the system can be 100% free which makes it a great option for small or home-based studios and individual instructors teaching at different locations.
Basic Account
FREE
Client self scheduling
Unlimited appointments and classes
Easy website integration
Email reminders
Customize the look
Easy booking process for clients
Paid Modules
(starting at $4/mo)
Text reminders - starting at $9.95/mo
Take payments (PayPal) - $4/mo
#4. Booking Ultra Pro – Cheapest in the Long Run
Visit Booking Ultra Pro
Booking Ultra Pro Demo
Booking Ultra Pro is a standalone scheduling plugin for WordPress.org websites. The plugin can be installed for FREE on any WordPress website and you can manage your schedule directly from your website. The plugin integrates seamlessly with the layout of your website creating the best overall look.
Free version of the plugin comes packed with features that will work for most small studios. However, if in the future you need to add extra functionality (taking payments online, adding multiple staff members, syncing with calendar etc) then full license can be purchased for an annual fee of $39.97 (just $3.33/mo!) which makes this the cheapest booking option available. T
The downside of the system is a relatively complicated setup that will take some time to get used to. Another downside is the absence of packages (clients can pay only for a single session) and limited control over schedule. There is no way to set up different types of classes however it will not be an issue if you offer only private sessions.
Free Version
FREE
Client self scheduling
Unlimited appointments and classes
Integrates into any WordPress.org website
Manage appointments directly from your website
Email reminders
Customize the look
Easy booking process for clients
Paid Version
(just $3.33/mo)
Take payments
Newsletter integration (Mailchimp or Aweber)
Multiple Staff members and locations
Google calendar sync
More Booking Systems to consider
Update: since this article was published we discovered more booking systems loved by Pilates and Yoga professionals. In the future we will make more detailed reviews of each one of these systems but for right now you can check them out yourself:
SuperSaaS is a European-based scheduling system that offers all of the necessary features at very affordable prices. Free account lets you ahve 50 monthly appointmnets while paid accounts start only at $8.
Tulahas great reviews from Pilates studio owners however they do not offer free account options and their pricing starts at $79. Many teachers prefer it to the more expensive MBO.
WellnessLiving does not a free account either but the starting price point is at 39/month.You can request a free 45 min demo to be walked through the setup and all of the features.
If you found this article helpful share it on Facebook or Pinterest.
Do you need help setting up a scheduling system or a website? PilatesBridge offers Website Services and Technical Assistance to help Pilates professionals build their online presence and grow their business.
Get more details here