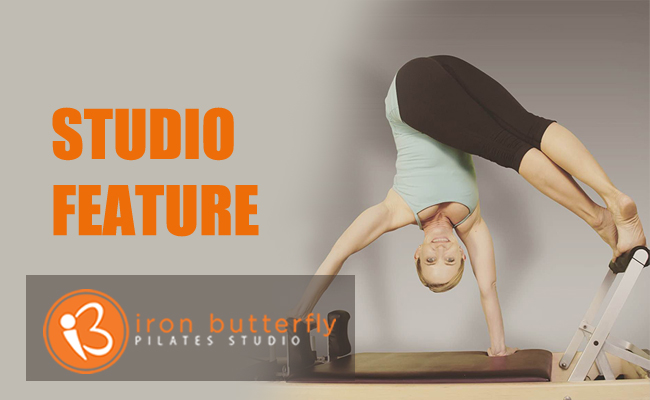 How does a successful Pilates studio look like? What does it take to run an efficient Pilates studio without losing passion for the Method?
PilatesBridge introduces a new series of articles – Studio Feature that will be published once a month. We will interview studio owners and showcase their beautiful studios. If you would like to be featured on the pages of Pilates Bridge as a studio owner or a teacher please drop us a line and we will do the rest.
Today we are starting out with Iron Butterfly Pilates located in Charlotte, NC. I am very happy to introduce Heather Obleada, the owner of IBP because I actually had a privilege of teaching at Iron Butterfly for several months. From the first moment Heather struck me as a very compassionate, kind and yet business-oriented person. She was interviewing me for a teaching position but she was looking for more than just credentials and teaching experience in me. She was looking for the personality and the desire to be part of a friendly and positive team.
This year Iron Butterfly Pilates celebrates 10 years of growth and health. People come to the studio because they receive personal attention, support and ALWAYS positive attitude from their teachers. Teaching AND being taught at IBP is a wonderful experience that invigorates both mind and body.
1. Heather, this year you celebrate a 10-year anniversary of Iron Butterfly Pilates. Looking back at the first days, what was the most difficult part of opening a studio? is there anything that you would have done differently?
The most difficult part of opening my studio was simply finding the courage to "Just Do It!" Once I knew Iron Butterfly was being born, it took me about a year to prepare and launch. I wanted to find the perfect space, have the website up and running, and have every "perfect" in my eyes. I started very small, just myself and one reformer. I was a one women show for everything from training clients, to marketing/advertising, to scheduling, to accounting, to the cleaning service. I'm so happy I had the opportunity to fully understand each aspect of the business before I brought others on. This helped me be truly appreciative for everyone our studio now has, including trainers, receptionists, an accountant, and a cleaning service.
2. What separates Iron Butterfly Pilates from other Pilates studios in your area (Charlotte, NC)?
We pride ourselves on personal attention, and attention to every detail. We make sure every person who walks through our door feels better, stronger, and more empowered when they walk out. The way our studio is set up, private training means just that, private training. We have 5 separate spaces for clients to be one on one with their trainer. We believe the hour belongs to the client and we cater to that, creating each individual session on the spot for the person in front of us. Our group classes are kept very small, 5 people maximum for Reformer Classes, and 12 people maximum for Mat Classes. This ensures that even in a group setting you will be getting lots of personal attention.
3. What is your "secret" to finding and keeping good instructors in the studio?
Credentials on a piece of paper really mean nothing to me. The best instructors have 2 qualities – passion for their profession and a kind heart.
4. What keeps your personal "Pilates fire" burning?
Every Pilates session that I take, after all of these years, still makes me feel great from the inside out. After a session I feel more confident and full of energy. I love being able to share this with every client that walks through the door. Helping to give others their "Strength from within" keeps my Pilates Fire burning bright.
Share your studio on the pages of PilatesBridge to expose your business to new clients as well as improve Google rankings of your studio website. It is simple:
Answer several quick questions in a written interview
Send us the best pictures of your space
… did you expect something else? YOU ARE DONE – your marketing for the month is done without even spending a dime!
Get featured