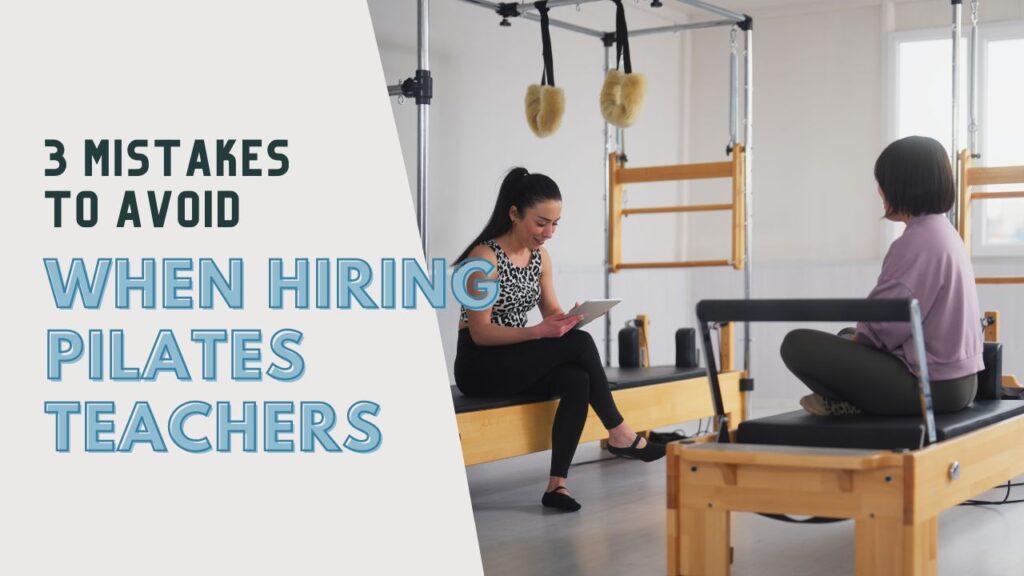 By Hannah McMullen
Pilates studio owners wear many hats – marketing, customer service and hiring/managing staff. All come with their challenges, but it's often surprising to hear that hiring instructors is one of the biggest pain points for studio owners. 
As a Pilates studio owner, and co-founder of PlankeApp (the Pilates Talent Marketplace) I'm a bit of an expert in that area. I have a studio and manage a staff of 12 instructors – all of whom I have directly recruited, hired and managed. Of the 12, I have had zero turnover. Why? I'd love to think it's because I'm the world's best boss – but I know better. I've had zero staff turnover because I know my product and my clients extremely well. I know the type of instructor who can make my clients happy and how to hire them. I'm able to hire smarter, so it's always the right fit. This leads to a happy team, happy clients and less stress managing the studio.
How do I do this? I avoid these common mistakes that most studios make in the hiring process.
3 Mistakes to Avoid When Hiring Pilates Teachers
1. Waiting to hire until there is an open position.
At first glance, it makes sense that you hire when you have a need. But when you need an instructor is when it's too late. There's a gap in the schedule and you are eager to fill it, fast. This leads to rushing the hiring process – which often means you don't have the time to thoroughly get to know candidates beyond their resume and demo. Personality is critical in finding the right instructor for your studio, and I would argue, more important than experience (the right person can always be mentored). You should be networking well before you have to hire. You can do this in two ways:
Get to know instructors in your area by taking classes at other studios and chatting with them after class – no agenda, no pitch, just chat and see if you like them. Develop a relationship so that when the time comes, you have someone to step in when you need them.
Another way to do this – saving time and money – is to join PlankeApp. On PlankeApp you can view instructor profiles (resumes + demo videos) and message them. You can find instructors locally and around the world – perhaps you even meet a traveling instructor who would like to visit your area and cover the next time there's a gap in your schedule. Start building your pipeline of instructors now, and save time and stress later.
2. Passing on candidates who aren't comprehensively certified or with little experience.
Unless every client and every class is a mixed apparatus session, there is no reason to exclusively hire comprehensively certified instructors who are trained on all pieces of equipment. If an instructor is perfect in every other way (and how would you know that if you pass because of their resume?), wouldn't it be worth it to hire them and then encourage or even help them complete their training? Like I said before, personality and culture are what create the best product for your clients – and that should come first. Get to know instructors beyond their certifications and experience and you will uncover a treasure trove of talent, just waiting to be nurtured. That's why we put demo videos and bios at the top of instructor profiles on PlankeApp – we want to make it easy for studios to see beyond the basics – to not only find a qualified instructor, but an instructor who teaches in a way that's aligned with your studio and fits the culture, style and vibe of the clientele. This could be someone fresh out of teacher training or with a decade of experience, but if you don't look beyond the basics, you'll never know.
3. Posting on job boards like Craiglist, Indeed and LinkedIn.
This is a really good way to spend too much money and waste too much time. These sites are designed to service more traditional industries and offer little to no help in recruiting and vetting strong candidates. You'll be left with a pile of generic resumes to sort through and little insight on where to go next. PlankeApp was designed to solve this problem. It's cost-effective (you can join and post jobs for free), quick (it takes just a few clicks of a button to post a job), efficient (your job is shared directly with instructors looking for work) and helpful (you can view instructor profiles directly in the app, making it quicker and easier to vet and recruit candidates). Don't rely on outdated products that weren't designed for the Pilates industry, there are faster and better ways to post your job openings to save you time and money. And don't forget to promote that you're hiring on social media – your network is a great way to get the word out!
The TLDR?
Don't wait to hire. Hire the right person, not the right resume and use better tools to do it. Build a stronger, better and happier team this way, and never look back.
About the Author
Hannah has been teaching Pilates for the past 8 years, owns a Pilates studio in Rochester, NY and is the co-founder of PlankeApp.