Pilates mat work: do you love it or hate it?
It's not a secret that Joseph Pilates developed his system of exercise starting with matwork. The original mat exercises are preserved for us in his book Return to Life through Contrology (first published in 1945.) But today, many people associate Pilates exclusively with apparatus work. Is Pilates mat truly effective and does it deserve a spot in your weekly workout routine?
As a Pilates teacher and an eternal Pilates student, I absolutely ADORE Pilates matwork. However, most people do not share the same sentiments.
Most of the studio owners that I have worked with admit that Pilates mat classes are a hard sell because the majority of the clients want to use the equipment.
I even talked to many Pilates teachers who do not enjoy practicing or teaching Pilates mat as much as they enjoy the apparatus work.
It's time to reignite our love for Pilates mat! I turned to our PilatesBridge community and asked for their honest opinion about Pilates mat exercises. I was truly blown away by the answers from both teachers and Pilates students. If you are still on the fence about whether or not Pilates matwork should be part of your personal Pilates practice – read on!
Article Outline:
Top Reasons to Love Pilates Mat
For me personally, Pilates mat gives me an opportunity to be honest with my body. There is no assistance from the springs. Matwork requires complete concentration and truly shows control of mind over body. I often tell my students that in a mat class, we are doing first brain work (to stay fully engaged and present) and only then physical exercise.
1. Pilates Mat is Accessible to Anyone.
27%
"It is super accessible, can be done anywhere and all I need is my own body and consistency. I like Pilates mat because it helps me improve my posture, prevent injury and work toward rehabilitation which allows me to be more prepared to help my clients."
Cely Chilazi is a certified fitness professional who focuses on the art, science, and practice of Pilates.
"Why I love teaching Pilates Mat work in particular is the accessibility and the adaptability. Oftentimes, Pilates can be marketed and can be perceived by potential clients as being something very exclusive, esoteric, complicated, and very expensive. What I love about encouraging and helping to cultivate a mat practice with my clients is that they can do it anytime, anywhere, and very economically. As long as they have a little bit of space to move and maybe a couple of props, they can really take ownership of their own practice and investigate the potential of their bodies. They don't need big fancy equipment to get results. We can teach our clients all they need to move well and to create a lifelong practice is their mat and the curiosity to learn about themselves."
Josselyn is the owner of Root and Limb Pilates. Her mission as a Pilates teacher is to help clients learn how to move their best by giving them a movement toolkit for their ever-changing life.
"I love to practice and teach mat work as you can take it anywhere. The equipment is wonderful but I like the accessibility of the mat work."

"What is so fulfilling about the matwork is that you can do it anywhere, anytime and the only equipment you need is your own body! How good is that? Yes, I use a range of small props in my classes too but really they add variety and slightly different challenges. You can practice, enjoy and benefit from Pilates without anything other than yourself and a space to work. This also makes it easy for students to practice their exercises at home without having to purchase any expensive equipment."
"Lots of reasons. Mat is part of the entire Pilates system so it would seem odd to not do mat and use all the other equipment. I love mat for the flow it has within it, once you start you can just keep rolling through the exercises. Mat is great in that you can do it anywhere, nothing special is needed and you feel so good after your workout! It builds strength in the body as well."

2. Pilates matwork improves strength, flexibility, and alignment. It's a complete package!
21%
"I love to practice and teach the Pilates mat exercises because they leave me feeling so flexible and ready for anything. And they are hard but look so easy and beautiful. I love to show my clients on all the apparatus which exercise translates into on-the-mat work. Teaser 1,2,3 to me, remains the best example of why you use apparatus to assist your mat work. But sadly we do not have strictly mat classes in my studio as they can be a hard sell. But we sneak in at least up through the ab series on every tower class and sometimes make a theme of mat on the tower or mat on the chair so we can expose our clients to this wonderful work."
"I love teaching Pilates Mat exercises because it highlights the fact that no 2 bodies are alike. We all have different strengths and weaknesses throughout our bodies which with time and consistent practice can improve some areas and strengthen other areas."
"I love teaching Pilates mat. I have students that have been with me for over 20+ years and they keep bringing me new students from their referrals. I have seen their progressions in strength, stretch, and alignment. Their testimonials about what they have gained from Pilates Mat keeps me going."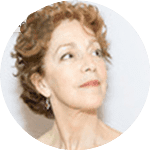 Peggy Levine teaches Pilates virtually and you can find her at peggylevinefitness.com
"Now 70 years old with Osteoporosis, I work on how to do Mat Pilates without so much Flexion of the spine. It is quite a challenge and I love it."
"I love the feeling that it gives my body. I feel challenged and stretched out. Plus I feel the mobility gained makes my day that much easier to move through."
3. Pilates mat builds a strong foundation 16%
"Since I began my learning journey with Mat work and developed my understanding of the 6 core Pilates principles on 'The Mat', I have since spent years studying each exercise in its classical Mat order, to further appreciate and comprehend the intended flow. Then, integrating the breathing into the movement, I found the power that drives the motion. It was then and still is now beyond exciting! It all fits together. It is like children's building blocks. It is very unstable to balance a larger block on top of a smaller one, yet we might try. But we realize to achieve greater strength and stability that would be defeating the purpose. You must build the foundation strong and stable and then recognition will follow. I base my Mat work on this. I still work on this foundation and questions still arise with uncertainty. The challenge for me is to reach a level of clarity, awareness, and satisfaction, not necessarily in the execution, because as I said, Pilates has a deeper significance to me than the physical sense. Pilates has become my personal preservation."
Aspasia P. Simeone, Pilates teacher at Pilates by the Sea in Long Beach NY
"I have a love/hate relationship with the matwork.
I KNOW it's the epitome of the Pilates system, but I must admit, I do love some spring action."
Sunni Almond, creator of Going More Joe and owner of Studio S Pilates. If your body is not becoming to you, you should be coming to me.
"I love teaching the mat work. It's the heart of the work and the foundation of all that is to come."
4. Develop deep body awareness 16%
"Seeing the changes in clients how they connect with their own body and movement."
Louise @pilatesbylouise
"Don't love to practice or teach mat. When I do it I appreciate that you have to really focus because you are not getting the support feedback of the equipment. You have to practice with your own strength and focus deeply. "
"It is gratifying to see clients achieve the gratification of achieving success with learning and perfecting an exercise on the mat. It's all about them. It's all about their body."
Paulette Mckenzie, ILOVEWHATIDO

5. Adaptable and great for all levels – 10%
"I love Pilates matwork. While sailing the seas of chronic debilitating pain for twenty years (from endometriosis) I adapted the Mat Exercises for my own needs as it was difficult to get to a gym or studio half of the time living with life-changing disease.
It turns out that the way I adapted the method is excellent for mixed-level classes. I teach seasonally via zoom. We meet for one hour to do Pilates plus mobility, and I find this is very flexible and convenient."
"Teaching mat is great for people of all levels, from those who are in great shape but unbalanced or injured to older or deconditioned people – there is every demographic at our gym! I incorporate lots of props and do variations of a lot of the reformer exercises. Mat classes can help teach people the basics of pilates (breath, core control) that they can then use for the rest of their workouts or daily life, in a more obvious way than by using a specialized machine."
Anne Fleming is certified in group fitness, aquafit, pilates, and prenatal / postpartum fitness. She spent a decade teaching for Baby & Me in Toronto and is currently a volunteer instructor at the West End Y.
6. Complete mind/body experience 10%
"I love Pilates Mat! There is no other routine that seems to work my entire body – the stretching, the breathing, the focus. My mind is always moving as I go through the exercises – where can I be looking, reaching, feeling. Pilates is a complete mind/body experience, and I learn something new each time I do mat. My first experience was with mat, and I am so glad I had that training before going on to the machines. The mat work absolutely informs what I practice on the machines."
Barbara Bitner, and I am forever grateful to my wonderful teachers at Core Pilates in Hilton Head, SC and Center Pilates in Rockport, Maine. They have changed my life.
"Pilates mat keeps me functioning physically and mentally."
Terry Durst
How often should you practice Pilates mat?
As you saw in the answers above, accessibility of mat is one of the greatest benefits according to the teachers and students. Pilates matwork is perfect for at-home workouts (read how to stay motivated with at-home Pilates workouts here), it can be part of regular Pilates studio sessions and can even be done while traveling. The strength and flexibility benefits of the matwork make it a great cross-training program for dancers, runners and any pro or amateur athletes.
How often do PilatesBridge community members practice Pilates mat? Here are the honest stats.
5 times a week or more – 30%
I get Pilates "snacks"* daily 26%
2 – 3 times a week 26%
Once a week 26%
Less than once a week 10%
Only as part of apparatus sessions 4%
*Pilates "snacks" are short Pilates mat-based workouts that include only a few exercises. It's not a complete workout that you need to schedule into your day. You can spend 5-10 minutes doing a few mat exercises (pre-Pilates, ab series of 5, a few roll-ups, side-kick series etc.) to build Pilates mat into your daily routine and always keep your workouts fresh.
Most inspiring answers from the community:
"I practice mat at least 3 times a week and have been for almost 11 years. I'm 71. What I have gained from Pilates is threefold. First, I am learning something new each time I practice the routines, whether on the mat or on the reformer. The beauty is that with each move I can flex a little differently, stretch a bit further, or focus on a new body part. Second, Pilates is truly a form of therapy for my body and mind. The more I concentrate, the more skill I can put into practice. Not only is my body getting a workout, but my mind is put through its paces as well. Third, I am exercising all parts of my being with Pilates. The discipline, the stretching – both physical and mental – and the feeling of progress are all substantial motivators. I have found a practice for the rest of my life."
Barbara Bitner, a forever grateful Pilates student.
"I do practice the mat, if I'm honest, it's mostly 1st thing in the morning, rolling up out of bed :-)"
Sunni Almond, creator of Going More Joe and owner of Studio S Pilates
"I try to do the full advanced mat work at least once a week. I am a little type A and schedule my Pilates workouts the way gym rats do (back, legs etc). Monday reformer, Tuesday tower, Wednesday chairs, Thursday Mat and Friday all the auxiliary apparatus. I do this to make sure my own practice stays strong on everything, not just my favorites. The struggle is real!"
Mo Wolfe, owner of Evolution Pilates in Port Washington, NY.
"Formally, I practice mat Pilates about 2 per week. Informally, I would say it's a daily practice. We keep a little basket of props and a foam roller in my den so when I'm playing on the floor with my son I often sneak in a little ab work or some bridging or an all-fours exercise where he inevitably crawls onto my back and makes it more loaded! I would say that the fluidity of my practice is what keeps it consistent. Sometimes it's very formal where I carve out 30 to 60 minutes and really practice my mat work in a very focused way. Sometimes it's very informal, where it is a little movement snack playing on the floor with my son or getting a little bit of standing work while my coffee is brewing. This idea is something that I love to impart to my clients and members of my digital Pilates studio: that we don't have to be so precious with our practice. It can be something more casual that fits in with our lives at any given time."
Josselyn, the owner of Root and Limb Pilates.
Favorite Pilates Mat Exercises
We all have our favorite exercises. Sometimes we like these exercises because they feel good in our bodies, other times we like them because of what these exercises do for our bodies. Pilates matwork really shows imbalances and weaknesses in our bodies. Working on the moves that are hard for us is the best way to see progress and take our practice to the next level. (Several responders picked multiple favorite Pilates exercises so if you are a math nerd you will notice that the percentages below do not add up to 100%.)
17% Bridging
17% The Roll Up
"This was my go-to after multiple abdominal surgeries to fire up the core. I like to modify it to roll halfway before training the full spine version." ~ Michelle Mola
11% Rolling Like a Ball
11% Kneeling Side Kicks
11% Seal
"I enjoy teaching seal because it is ridiculous – I will bark while doing it. Classes should be fun!" ~Anne Fleming
11% Open leg Rocker
11% Teaser
11% Side leg series
11% Boomerang
5% Pre-Pilates
5% The Hundred
5% Single leg circles
5% Ab series of 5
5% Spine Stretch
5% Saw
5% Pilates Dart (Spinal Extension)
5% Corkscrew
5% High Scissors and Bicycle
5% Mermaid
5% Control Balance
Pilates Cues that Get You to the "A-Ha" Moment
Pilates develops incredible body awareness in students. The mastery of Pilates teaching is to use cues and imagery to help students find muscle connections that were not accessible to them before. We are not "muscling" our way through the workout but rather use intelligent ways to move the body in a safe and effective way. Once this body awareness has been developed, it enhances any other physical activity that we participate in. Next time you want to go a little deeper into your Pilates workout, use one of these cues from Pilates teachers.
"Pull your Naval (Belly Button) toward your spine and up toward your heart"
Kathy Kelly, Pilates Instructor at Club Pilates Klein and Woodlands and West End Cypress Pilates
"While standing, place your hands on the abdomen and pull the belly away from your hands as you exhale. Do this a few times before moving on to the exercises. Then repeat as you change positions – e.g when you are prone, try to pull your belly away from the floor."
Anne Fleming, certified group fitness, aquafit, pilates, and prenatal / postpartum fitness instructor.
"Remember to use your pelvic floor! It is so easy to forget."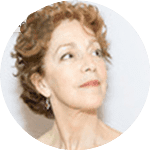 Peggy Levine, virtual Pilates instructor.
"Remember to use your pe"Clear the cobwebs from your hips.
Fire up the core
Open the chest to open the heart."
"Any cue that reminds me to bring my shoulders down is helpful. Sinking your elbows to your feet is a good one."
Barbara Bitner, a forever grateful Pilates student
"Lengthen, when doing dart (spinal extension) rather than lift."
Louise, @pilatesbylouise
"Tighten your buttons and collarbones wide, ribs pulled together."
Terry Durst
"Pull your abs to the front of your spine as you reach everything else away in opposition."
Sunni Almond, creator of Going More Joe and owner of Studio S Pilates.
"Hug your midline."
"Inhale…Prepare…"
Aspasia P. Simeone, Pilates instructor from Long Beach NY
"My favorite cue that really connects deeper into my body is to start the exercise with the legs in tabletop position (CKC) from there I find my connection. For example; Chest Lift and The Hundreds exercises. In supine position, inhale and exhale as you lift the head, slightly tuck and flex the neck to flex the thoracic spine to where the lower points of the scapulae are on the mat. With the legs in tabletop I feel safe while preparing to do many exercise variations."
Cely Chilazi, personal trainer and Pilates instructor.
"I am a huge fan of the two-way stretch. I find people sometimes miss the length in exercises but if they find opposition you can see it immediately and they feel it."
Mo Wolfe, owner of Evolution Pilates
"My favorite cue is not a specific cue, like, "draw your sit bone towards your heel" or "curl your tailbone up to the sky", but really any cue that creates a sense of inquisitiveness. I use questions a lot when I cue so it's less directorial like, "Pull your ribs down." and more investigative like "How would it feel to draw your ribs down?" When we ask questions we are really asking for the client to present their experience. They start to move for them and not for validation from the teacher.
Let's take spine stretch as an example: "What is it that you are noticing at this moment right now moving into your spine stretch? Are you stretching your spine? Are you stretching your hamstrings? What is your choice?"
I think this way of cueing not only keeps the client engaged but also keeps me engaged as a teacher. The session becomes more of a conversation that we are having to uncover something deeper about their experience with the work. Hopefully, they then can walk away from the session or from their class, or even a recorded video, having learned something about themselves in an autonomous way. I feel the discoveries clients make when they have to answer these questions are more organic and integrated."
Josselyn Levinson, owner of Root and Limb Pilates
"Stay present during your class or flow, it's so easy to think about what's next. By focusing on your breath and the exercise at the moment you can find that presence."
Jessica Roberts, owner of Pilates Workouts Online
"Engage your abdominals and pull your shoulders away from your ears."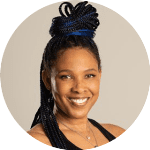 Simone Pyne, Certified Pilates & Barre Instructor
"My teaching is influenced quite a bit by the Franklin Method so I use a lot of imagery in my cues. We use a lot of imaginary olive oil in my classes – the students love this cue and it really helps them to relax the tension and start to find more supple movement in the spine and joints."
Kirsty Chalmers, Pilates mat teacher from New Zealand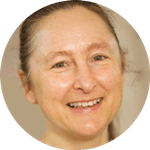 "Take the next rep if your body allows you to close your eyes. Try to see what is happening within and focus on your intention for this exercise."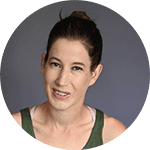 Allison Zang, Studio Owner from Central Pa
"Think of a puppet string attached to the top of your head and it is drawing you upwards making you sit tall on your sit bones. I really notice a difference in my clients."
Rachel Robertson, Pilates instructor and kinesiologist.
"Use your breath to make your muscles work. I think of this cue when I really need to bring everything to the party!"
Karen Wilder, Romana's Pilates Lvl V Teacher and NCPT
Pilates Matwork Infographic
What's Your Pilates Mat Story?
This concludes our article about Pilates mat but it definitely doesn't conclude the Pilates mat love story.
Would you like to contribute your answers to the article as well? You can! Your voice matters and we would love to feature your answers in this community article as well. Just answer any or all of the following questions in the comments below:
Why do you love to practice/teach Pilates mat exercises?
How often do you personally practice Pilates mat work?
What is your favorite Pilates mat exercise? (to teach or to practice yourself.)
What is your favorite cue that helps you really connect deeper into your body (or helps your students find this connection)?