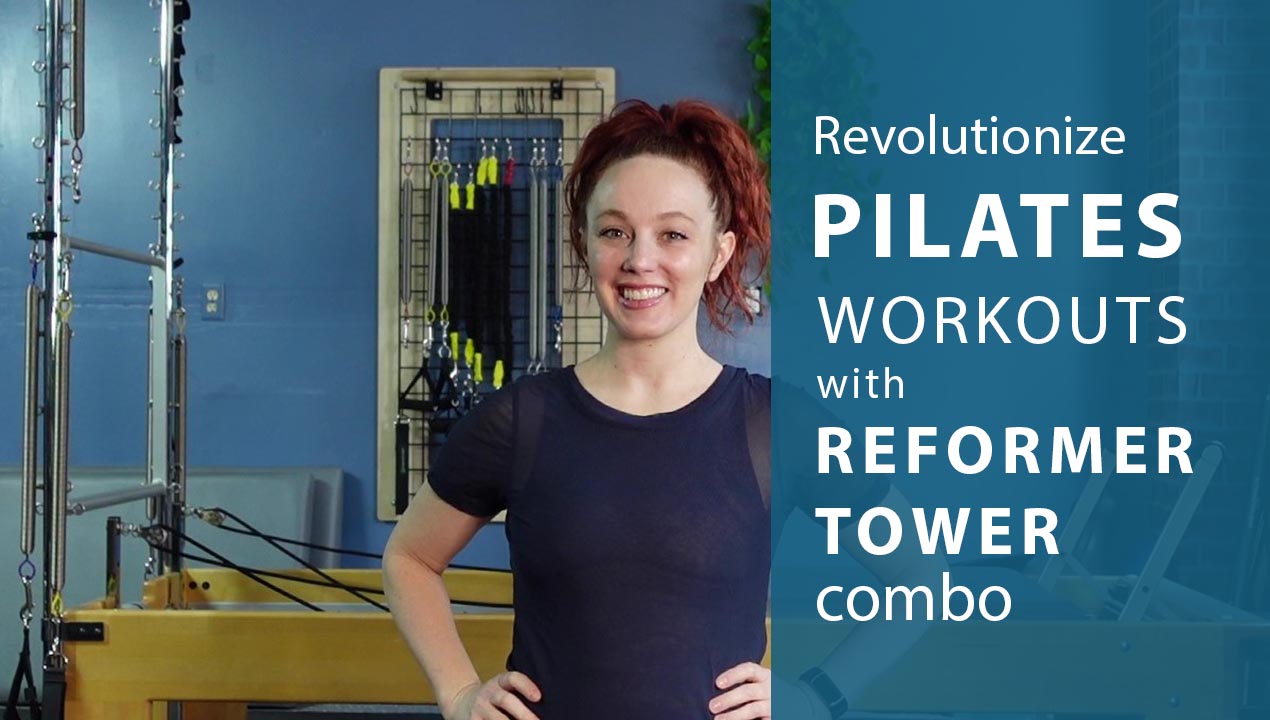 By Jessica Roberts at Pilates Workouts Online
Reformer + Tower = Love
I love the combination of the Pilates Reformer and Tower. It allows you to easily incorporate the Reformer and Trapeze aka Cadillac work into your personal and professional Pilates practice without needing two pieces of apparatus.
This is great, especially for those with limited space in their studios or home gyms and there is no need to attach springboards or stand-alone towers to your wall.
You can do most of the exercises from the Trapeze Table repertoire including the push-through bar, minus the work with the overhead risers and trapeze sling. Making the trapeze work more accessible.
Easily transition between Reformer and Tower exercises without needing to convert it into the tower bed. You can utilize the tower springs from either inside the well of the Reformer or the floor sides of the tower if your space allows. Allowing you to keep the Reformer accessible to create multi-apparatus flows utilizing the Reformer and Tower.
This also creates the opportunity for circuit-style multi-apparatus flows with multiple clients attending one session.
There is a wide range of customization and modification options that can be tailored to meet the specific needs of each individual client. With infinite possibilities for personalization, the Reformer- -Tower combo unit is a game-changer.
Let's explore five exercises that we can take from beginner to advance to challenge and engage your clients.
Supine Arms: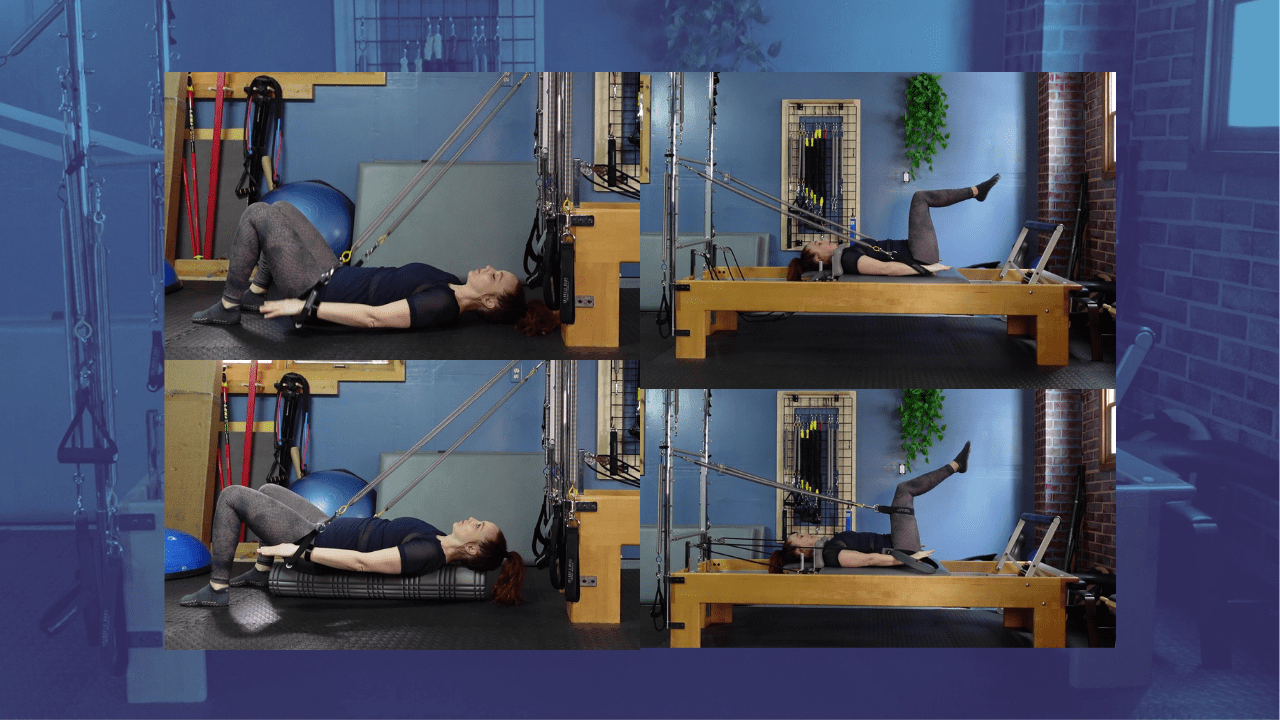 If a client can't hold the table top in supine arms, no problem we can either move them to the floor side of the tower or use the light yellow springs from the tower around the thighs. We can even challenge this move at the floor tower side by adding a foam roller.
Tower: Floor Side with Feet on the Floor
Reformer: Straps and Light Tower Springs on Thighs
Reformer: Tower Springs
Tower: Floor Side Laying on Foam Roller
Leg Circles: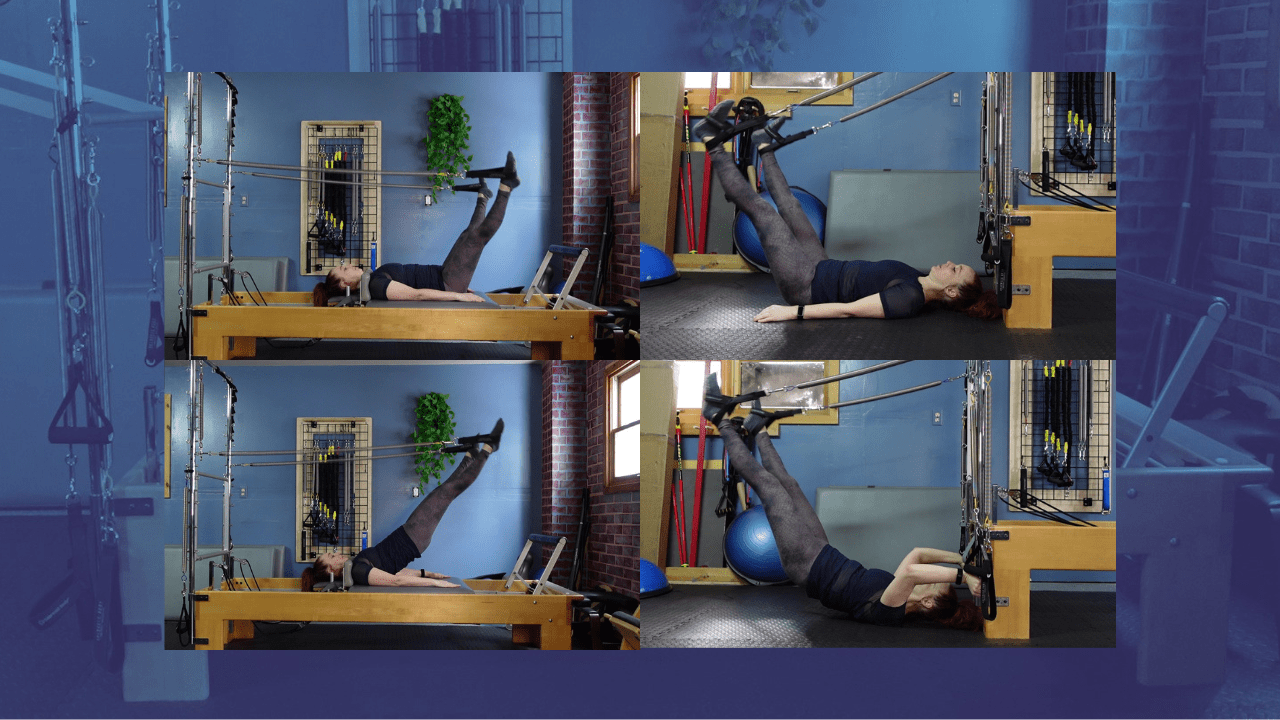 This exercise is great for mobilizing the hips and improving balance and stability. You could use thighs in the straps to modify.
Reformer: Thighs or Feet in Straps
Tower: Tower Floor Side Thighs or Feet in Straps
Reformer: Feet in Tower Springs
Tower: Floor Side Feet in Straps for Magician
Mermaid: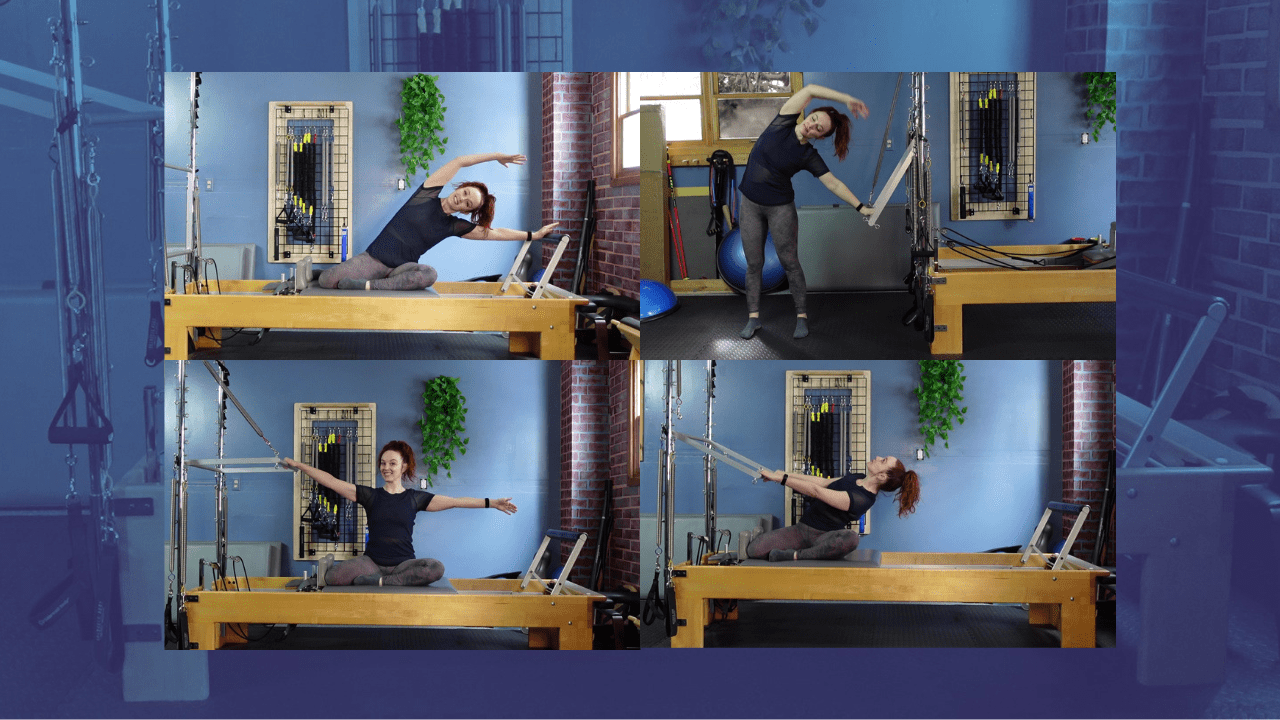 If your client can't sit in the mermaid position, no worries take them to the tower floor side to do standing mermaid with the push-through bar.
Tower: Standing
Reformer: Seated
Reformer: with Push-Through Bar
Thigh Stretch: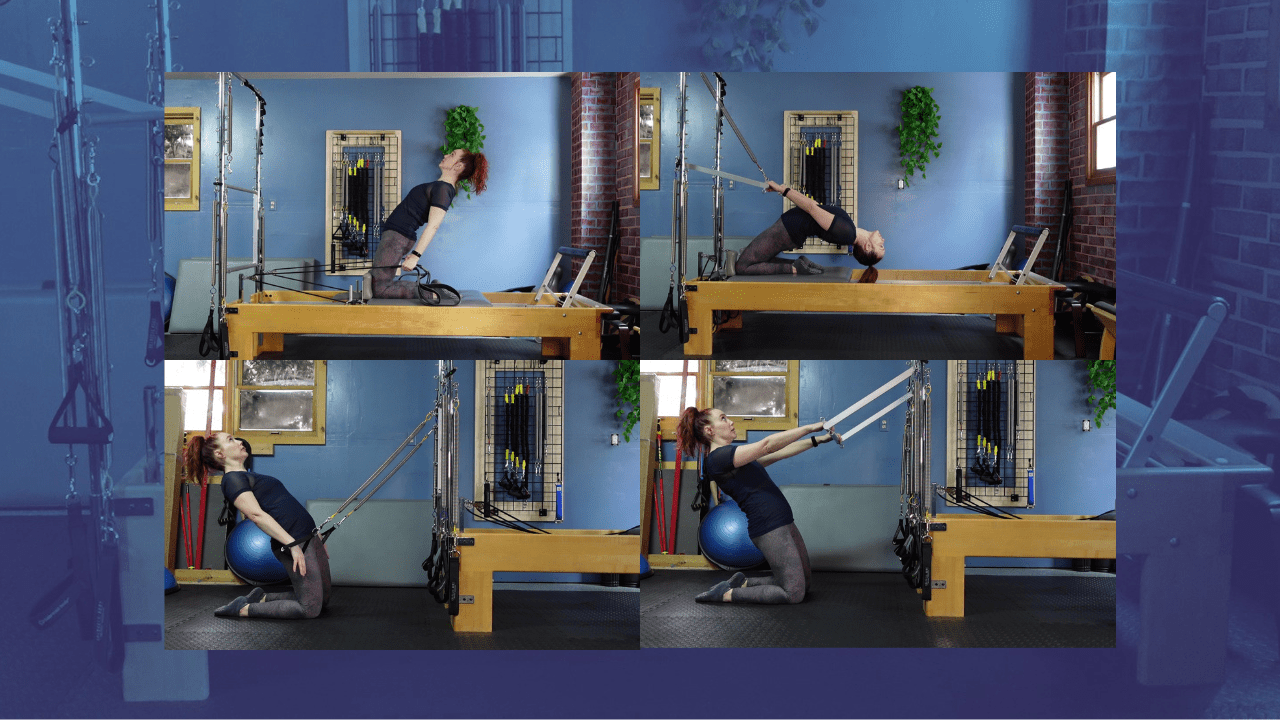 This exercise is great for targeting the front and back body, while also counteracting a day of sitting.
Tower: Floor Side with Push-Through Bar
Tower: Floor Side with Arm Springs
Reformer: Straps
Reformer: Push-Through Bar
Teaser: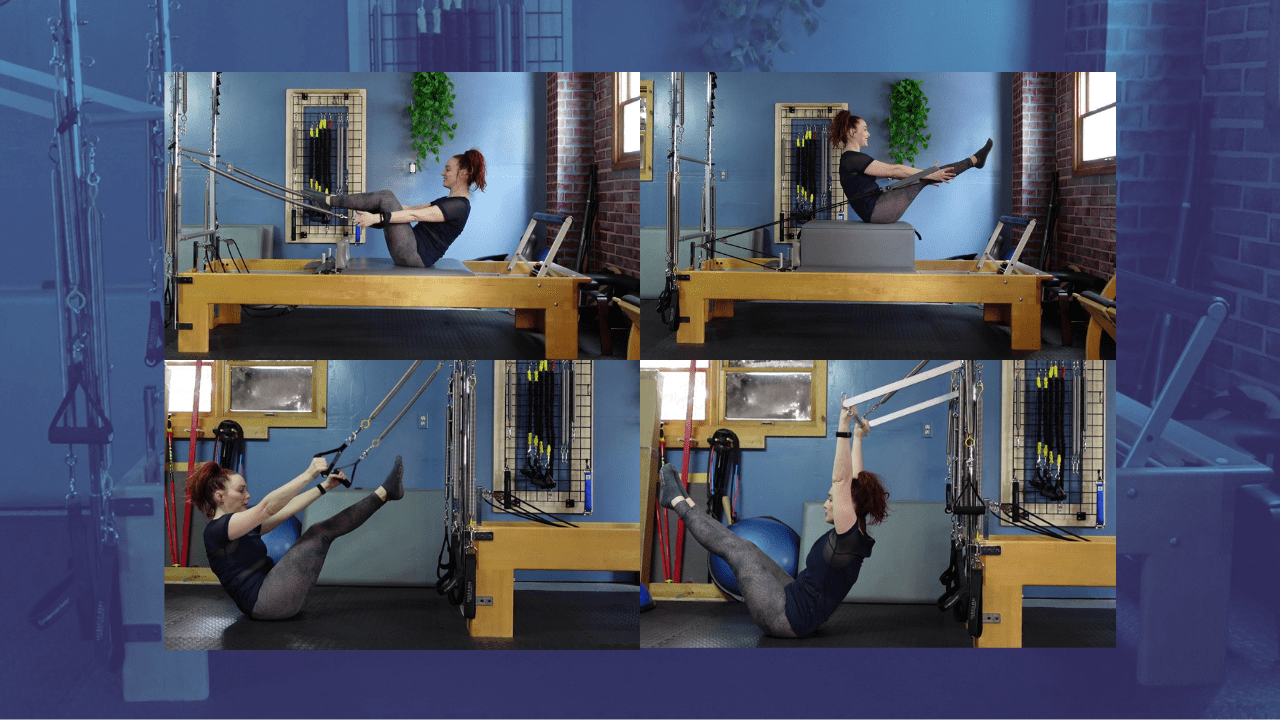 This exercise challenges the core muscles and hip flexors. Customize this exercise down to the basics using the push-through bar for assistance or challenge clients of all skill levels on the Reformer and the Tower.
Tower: Floor Side with Push-Through Feet on Mat
Reformer: Facing Back with Straps/ with Springs
Reformer: Full Teaser Facing Footbar with Box/ Springs
If you don't have access to the Reformer + Tower Combo, you can still apply most of these exercises by using the Reformer and a wall tower unit like the springboard.
Ready to take your Pilates practice to the next level? Sign up for the Pilates Mini Comprehensive program today and experience the full potential of the Reformer, Tower, the Reformer + Tower Combo Unit, and the Chair in an immersive online experience. Don't miss out on this opportunity to transform your personal and professional practice and fill in the gaps left after teacher training.
About the Author
Jessica Roberts aka Jessica Ann Pilates is a Balanced Body CPT-NCPT and an inspiring entrepreneur. She founded Pilates Workouts Online to share her love and expertise for Pilates with the world. She was first introduced to Mat Pilates through an infomercial with Mari Winsor and then discovered the Reformer during a physical therapy session. After discovering group classes and one on one's she fell in love with the transformative effect Pilates had on her body and the boost it gave to her confidence and mood. She has dedicated herself to always being a student, creating a career as a Pilates instructor and teacher trainer. She has operated a home studio and managed and taught at multiple boutiques, gyms, and chain studios utilizing a variety of Pilates apparatus.
Join Jessica at Pilates Workouts Online for a revolutionary and immersive experience in Pilates continuing education. Elevate your personal and professional practice with our fun and interactive virtual space that empowers you to take your skills to the next level in the studio and beyond.