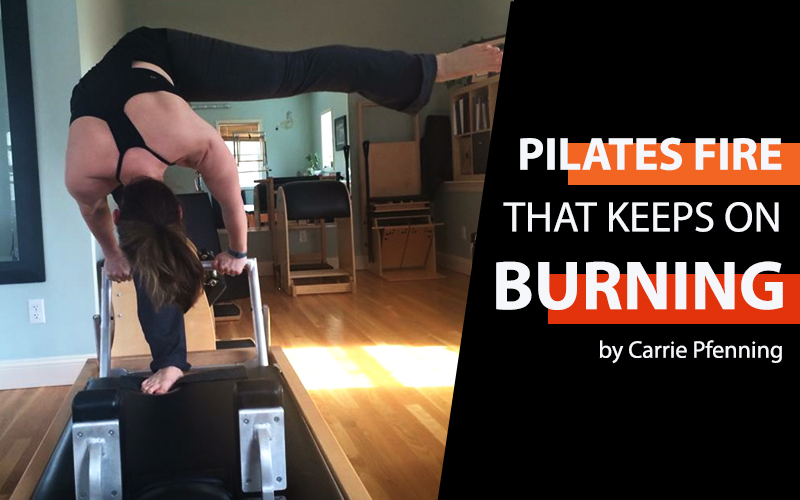 by Carrie Pfenning
In 1995 I was a performing arts major in my junior year at The Boston Conservatory. I spent one hour a week in Jessica Sayre's 'floor barre' class. In this class we quickly executed the same exercises every week, following Jessica's enthusiastic voice while we moved to the Dirty Dancing soundtrack. And while I was having fun, those same exercises got a little boring after a while. During that year, I had been at my strongest in the studio and on stage, and looking back on it, I now attribute that to the "floor barre" that I had been doing. So, really, my "Going More Joe" experience happened over a period of 17 years. Some of us learn quickly, while some of us…well, you get the idea.
By 2001 I had finished my brief stint in the performing arts world and had become an early childhood educator. My youngest son had just been born, and as a Mother's Day gift I received a gift certificate for 10 mat classes and 2 private lessons at a local Pilates studio. (To this day my husband marvels over the fire that gift certificate sparked.) My college roommate was getting certified to teach Pilates and had been telling me how much I would love it. Well, I did love it. It's precision and principles spoke to my inner dancer, and it was suggested I get certified. Why not? I had a degree in Performing Arts and one in Education- it made sense as a next step even though I already had a plan to work towards a job in the school system (for the benefits and vacations). Benefits and vacations had no chance in my mind anymore – I was in love with Pilates.
There is a saying that "You only know what you know," and I didn't know much. I looked for the most convenient teacher training program near me and spent a lot of money and time only to be disappointed by a local studio masquerading as a bigger program than it really was.
Unfortunately, the only place I was qualified to work after a year of working/learning with STOTT materials in 2004 was that particular studio. At the same time the PMA launched their exam, so I figured that I could take their test and at least have a legitimate certification. I cheerfully bought the study guide and was shocked. I didn't recognize any of the names of exercises! Feeling discouraged and looking for help, I saw that a gold certified member lived near me. I made an appointment with her and my 'Going More Joe' journey started!
When I first met Joy George my objective was to only take some classes and get a little help passing the exam. Joy, a second generation teacher, was very generous with her time, vast experience and even offered to let me observe her teaching. Imagine my surprise when I realized that I recognized the mat order as the 'floor barre' I used to take years before! I was delighted that there was an order to things (yes, I am that person…), and that there were transitions between exercises! It all suddenly made sense; like puzzle pieces falling into place. Joy was very passionate about Authentic Pilates- so much so that that her love for the work poured out in our conversations. Not only did she help me pass the PMA exam, she set fire to what sparked when I used my gift certificate from Mother's Day.
Joy encouraged me to stay on my path to the Classical work by getting a comprehensive certification. I didn't have the ability to travel to New York as she had done to study at Romana's Pilates, so she recommended the Peak Pilates program. I traveled up the South Shore to begin taking lessons with Pamela Garcia to see if it would be a good fit. I was thrilled with my work with her, and felt like this was just the right move for me. In 2007 I studied with her throughout all the levels of my certification and have continued to take weekly lessons with her. She has supported me over the years through injuries, challenged me to grow professionally, and walked with me through life's surprises. The Peak program gave me a solid foundation of the classical system and I was challenged to be better than I ever thought I would be, as a teacher and as a student. But more importantly, I became part of a community. Throughout the years I have met incredible people who I am proud to call friends within this community. A community that started with that started with the small group I worked with in the beginning of my training and has grown to be full of friends all over the country and the globe. Community has been the greatest gift Pilates has given me.
In 2011 I met Brett Howard and he threw gasoline on my now complacently comfortable fire. As soon as I went to my first workshop with him, I knew I wanted to learn more from him. I was ready for a new challenge and loved the idea of getting certified by the original Pilates education program from New York. In 2012 I participated in and completed the United States Pilates Association's first bridge program. This program built on what I already knew, and gave me more than I ever thought. Through this program I reconnected with Joy George, as I completed my apprentice hours at her studio. I was a little frustrated with the idea of having to do apprentice hours outside of my own studio at first, but it was the best thing I ever could have done. It was during this apprenticeship that I really began to see more clearly, understand and experience more deeply Pilates as a system and how it builds on itself. I also had the incredible opportunity to work with and learn from many second generation teachers, many of whom I had seen from a distance but never dreamed I would learn from directly. And my community grew.
Since then I have continued to learn while I teach. I am so very lucky to love what I teach, and continue to love to learn about it. I have had the opportunity to learn from some of our industry's best, but I really learn all their lessons while working with my students. They are my true teachers. When I started out wanting to learn more about Classical/Authentic/Traditional Pilates I expected to learn about exercise orders, transitions, archival exercises and how to become the best teacher I could be. (Believe me, that is still constantly evolving.) I didn't consider how I would get lots of experience on different apparatuses. Over the years I transitioned my studio from STOTT to Peak to Gratz apparatus. I have learned something from every piece of equipment I have worked on and taught with. What I really didn't expect was the amazing community I have been honored to be a part of. I am still growing my circle of Pilates 'family' and am so incredibly filled with gratitude for the friendship, support and love I have been given while I was Going More Joe. I am fortunate to be able to teach new teachers with Peak Pilates today and every time I begin a new training, I feel everything and everyone that built my spark into a roaring fire behind me, helping me to pass on this important work.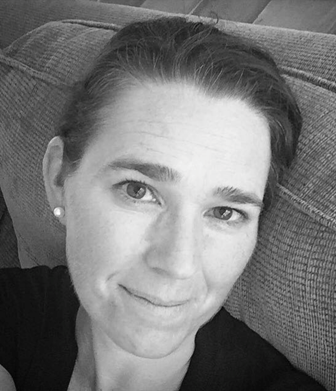 Carrie Pfenning lives in Massachusetts, on beautiful Cape Cod, with her husband Kevin, son Jack and her Sidekick Toby. She opened The Pilates Room in 2006, and loves helping people change their bodies and lives with Pilates. When she isn't teaching, Carrie loves being on the beach, hiking in the forest (along with her trusty Sidekick), and road-tripping to Maine to love up her son and two scrumptious grandsons.