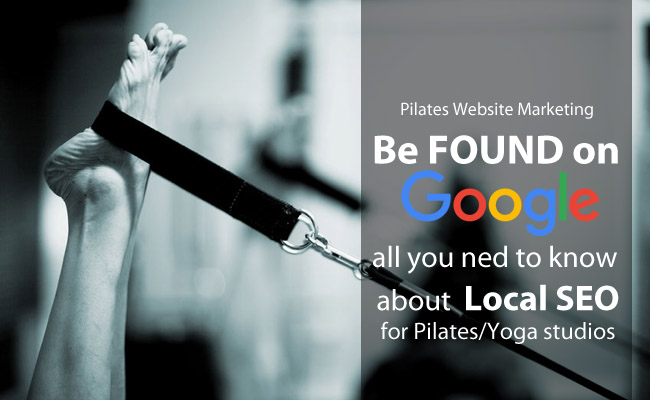 Updated: March 2019
How do you get more people to find your website?
You have heard about the importance of SEO for your studio website. But did you have the time to figure out what exactly SEO is or what local SEO ranking factors are important for your business?
When I talk to Pilates business owners many of them have heard about the term "SEO" and they know that it's an important thing. But very few actually understand what SEO is and how it works. In fact, just in the last couple of weeks I was getting these emails from Pilates studio owners:
"My website has suddenly dropped from the first page of Google. Do you know what happened?"
"How do I make my website show up in the map (local) results on Google?"
"I am getting very few inquiries from my website. How can I get more people to contact me about a Pilates session?"
These questions seem very different but my response to all of them was the same: "Your website is not optimized using the latest (2019) Google ranking factors. You need to focus on the local SEO strategy."
I will admit, that it's getting more difficult to compete in the online world and staying on top of search results requires a lot more than just putting together a website.
Just several years ago Pilates web sphere was not overly crowded but today Pilates, barre and fitness chains take over search results in many areas. Yes, I know that it's not the same Pilates that we teach but the consumer does not know the difference if they have never done Pilates before. First search results get the majority of clicks and you can even forget about any traffic if your website is stuck on the second or third page of search results.
Some studios are lucky in the fact that they have old and established websites that have "age-authority" in the eyes of Google but even that is changing. Recent changes in the Google algorithm are making many old school SEO (search engine optimization) techniques obsolete.
Good news is that you can do many of the SEO steps yourself. It takes time and you need to be organized in your strategy but you can certainly do it.
So let's clear some confusion out and then dive straight into the depths of the SEO ranking factors (buckle up, it might be a bumpy ride!)
What is SEO?
I can compare SEO to electricity. In school I hated studying electricity because I could not see it. You know that electricity is a real thing and you can see the results when it's on but you can never actually see those electrons flowing through the wires. It's invisible.
Most of the SEO work is also "invisible" to the website owner. It involves building links, optimizing image titles, using keywords in the website content, adding special markup to the website code to make it more crawler-friendly and more.
There is one major difference between electricity and SEO though. You can immediately see the result when the electricity is on (the lightbulb lights up, the blender is working etc.) It takes anywhere from 1 to 6 months to notice any results of the SEO work on a website.
SEO (Search Engine Optimization) is the process of getting traffic from the "free," "organic," "editorial" or "natural" search results on search engines.
Here is a short video that explains how SEO works as well as the vital components of any search engine optimized website. In this article we will be diving into the local 2017 SEO ranking factors that are important for studios and other local businesses.
So what should you do in 2017/18 as a Pilates business owner to secure a good position in search results for your studio?
Anatomy of Google Search Results
First let's talk about 3 different types of search results. We will focus on Google because as of today it is used to make 77% of all web searches.
Ad results always show up at the top of the search page. In order to be listed within these results you need to advertise your website using Google Adwords. In the last years Google has been pushing advertising for local businesses with vengeance. If you have your business registered you might have even received a Google Adwords coupon to try their ad platform.


Should you use PPC (pay per click) advertising? If you are in a very competitive market and have money to spare then you can gain some valuable insights from using AdWords. The cost is usually pretty high (you can expect to pay up to $20/click.) If you choose this route then you need to make sure that your website is optimized for conversions so that you are not wasting your money on lost lids.

Local (map) results. In order to show up within the local (map) results your studio must be registered and verified as Google My Business. Thankfully, registering the business is free but you must provide a physical address for the studio. Google will send a verification postcard to that address and only after that you will be added to the map results. A lot of home studio owners choose not to register themselves on the map which drastically decreases their chances of being found online.


At the moment the #1 factor in ranking in local results is proximity to searcher. As Google constantly tries to improve the quality of their search results we can hope that in the future Google will change this strategy because a lot of times the closest business is not necessarily the best one.

In just the last year Google has limited local results from 7 to just 3. The pressure is on to rank within this 3-pack. When you click on the map you can view more results but the top ones can still be taken by ads.

If you do not show up at the top of local results you can still fight for your place in the organic search results of the first page.

Organic search results appear under the map results and can represent a mixture of local business results, media mentions, online directory listings etc. The title and the short description (meta description that appears under the URL) have to grab attention right away and give web visitors an immediate reason to check out your website.

A well-crafted and professionally designed website has a chance to shine in each type of the search results mentioned above, BUT it still needs to be optimized for search engines.
SEO is not a rocket science (unfortunately!) It does not have a set of rules that anyone can follow to reach the #1 spot on Google. Google constantly changes its algorithm to provide a better experience and quality of search results. And they don't actually send you a handbook that you should follow step by step to secure your rank.
There are two absolutely worst things that you can do right now:
Quote Scarlett O'Hara saying "I'll think about it tomorrow." By the time that you get to thinking about it your competitors will dominate the top positions and it will take you months to catch up.
Feel overwhelmed and hide your head in the sand thinking "I'll get by somehow." If the business that you are building is merely a hobby to you then please feel free to ignore SEO completely. However, if your studio is the passion that you would like to see flourish bringing you personal fulfillment and financial stability then you can't be an ostrich any more.
Below you can find the most current and complete list of 2017 SEO ranking factors that will help your studio website get to the top positions on Google.
2017 Local SEO Ranking Factors (in order of importance)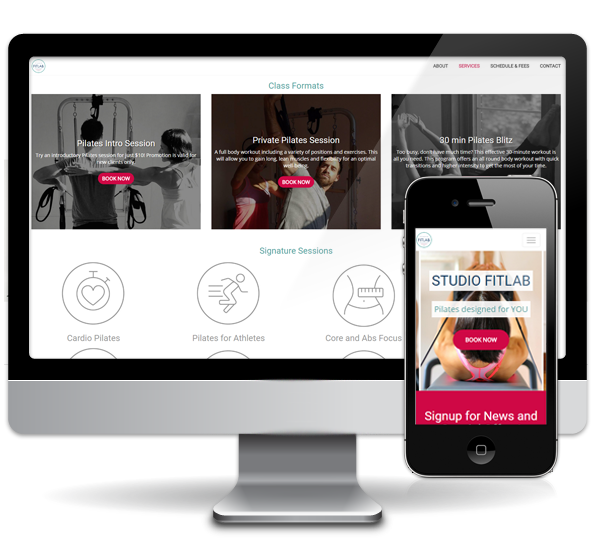 1. Start with a good foundation
In 2016 Google has started its drive towards fast and mobile-optimized websites. Today search engines have changed their focus from desktop-first to mobile-first approach. In simple words it means that if the website is not optimized for mobile performance and if it loads slowly then Google will not view it as a high-quality resource which will result in lower rankings in search results.
If your website is built using old technologies and it does not have a mobile-friendly version then you need to give it an immediately facelift (check 10 signs that it's time to redesign your website.)
In fact, 60% of mobile web visitors expect site to load in less than 3 seconds. You can check how fast your website loads using GTmetrix site speed tool.
How do you know if your website meets strict Google guidelines? It's easy. Google provides a free tool to estimate the "quality" of the website – Google PageSpeed Insights. You want a score of at least 80.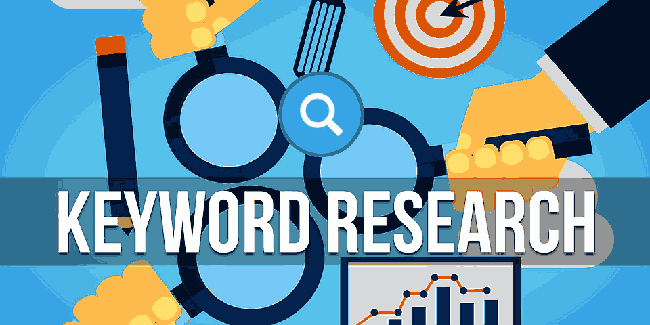 2. Find your keywords
I see one mistake over and over again in teachers who set up their own websites. Instead of using specific targeted keywords they are trying to use generic search words like "pilates", "reformer", "stretching", "balance" etc.
Always put yourself in the position of a person looking for your services. What would they type in to find your business?
Today Google uses semantic search as part of their algorithm which means that you need to go beyond using direct keywords and include relevant and proof terms.
According to the SearchMetrics Ranking Factors report the highest-ranking pages contained a 53-percent proportion of relevant terms and 78-percent proportion of relevant terms.
Proof terms are terms typically included in all articles on the topic, thus Google expects them to be included. Relevant terms are not always present but part of a sub-topic.
It might seem hard to wrap your head around all these terms but it's easier than you think. Both proof and relevant terms will naturally appear in a website copy that gives a comprehensive look at the topic. These terms will really shine if you start publishing long and well-researched articles on your studio blog.
Here are some practical tips on finding keywords to use within the content of your website:
"Pilates" + "your exact location" (if you offer different services please use those instead of "pilates.") Use the name of the town/city that you are located in. Try it both with and without the state.
"Pilates" + "your alternate location." This time think about other ways that people will be searching for local businesses. It can be the name of the metropolitan city, the non-official name of the area, neighborhood etc.
"Pilates studio", "pilates classes", "pilates teacher", "pilates instructor" – all of these keywords are semantically similar and can be used as main keywords throughout different pages of your website.
In order to get even more ideas you can use free Google Keyword Planner Tool that is available as part of Google AdWords. You can create a free account but you are not obligated to run any ad campaigns.

Do a Google search for a Pilates studio in your area and take a look at the Related Searches at the bottom of the page. What new keywords can you use on your website?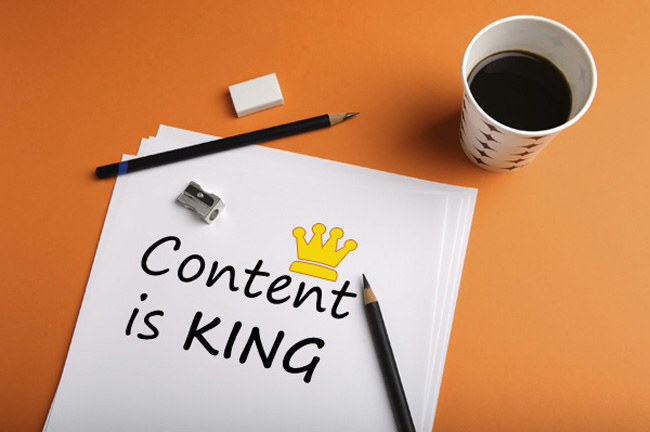 3. Content is KING
The look and speed of the website are important but content really is what the website is about. If you do not provide valuable information on the website then all of the attempts of ranking well are nothing but a waste of time. Content should be written for both website visitors and search bots. Before a new visitor gets to land on your website the search bots have to crawl your content and figure out what the page is about.
In the old days of SEO you could stuff the page with your keywords and expect to rank well in search engines.Today your website will be penalized by Google if you try the same trick. Google looks at a wide variety of signals to determine the quality of content on your page.
The first time the keyword is mentioned on the page Google makes the first impression of what the page is about. But then the search engine starts looking for supporting words (relevant and proof terms that can be synonyms or words usually used within the context of the topic) to make sure that the page provides a broad coverage of the topic and valuable information.
When writing content for a local business make sure that
The main and alternate locations are mentioned within the content of the page, preferably higher up on the page.
The main keyword (e.g. "pilates studio charlotte nc") and its alternatives ("pilates classes south charlotte", "pilates teacher charlotte" etc.) are mentioned within the content.
There are at least 300 words on each page (preferably more.) Google seems to prefer long scrolling pages because those are easier to load and read on mobile devices than tabbed content. When you have a lot of content on the page you can also easily include more keywords in an organic way (View examples of long scrolling pages at the Pilates Website services page.)
The website is configured with meta tags. Meta tags are short pieces of content that search bots use to get the title of the page (title tag) and the description (meta description.) Meta tags should include your main keyword.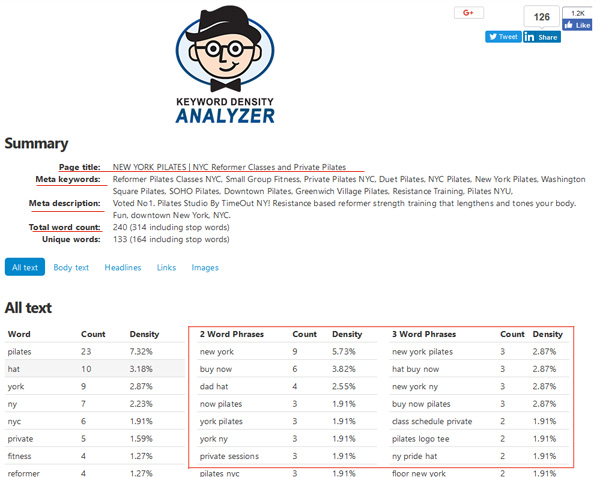 You can use free SEO Book Keyword Analyzer Tool to discover which keywords are currently used within the copy of your web page. Pay particular attention to the 2 and 3 word keywords. If you notice that you have a very high density for a particular keyword (above 4%) then you need to rewrite the text to include more synonymous words otherwise you are risking being sandboxed by Google as a spammy resource.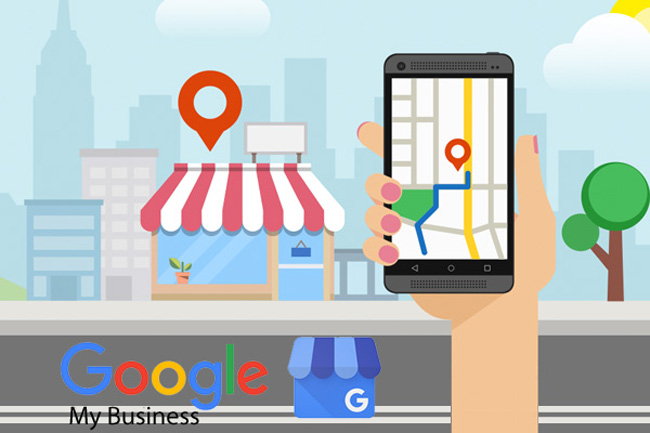 4. Add your Pilates/Yoga studio to Google My Business
I've mentioned it before and will repeat it again. In order to even have a chance of showing up in local results (on Google Maps) your business must be verified as Google My Business on the Map. Having the business listed on the maps can also help your website rank better in organic search results.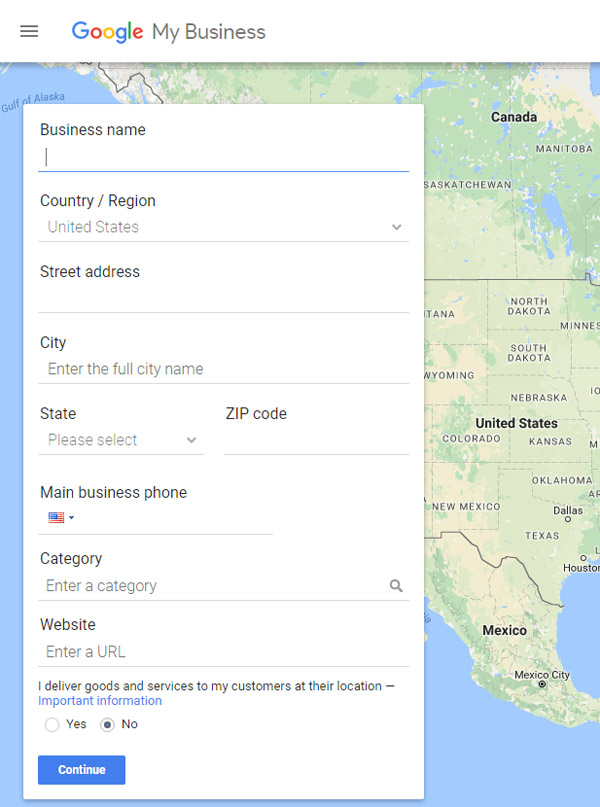 Google has just introduced a new feature to the GMB page: Posts. Now you can list events, announcements and special offers in your GMB listing. While it's too early to say whether having events listed will help you rank better, this feature can increase your conversion rate because you can add a direct link to your sign up or special offer page.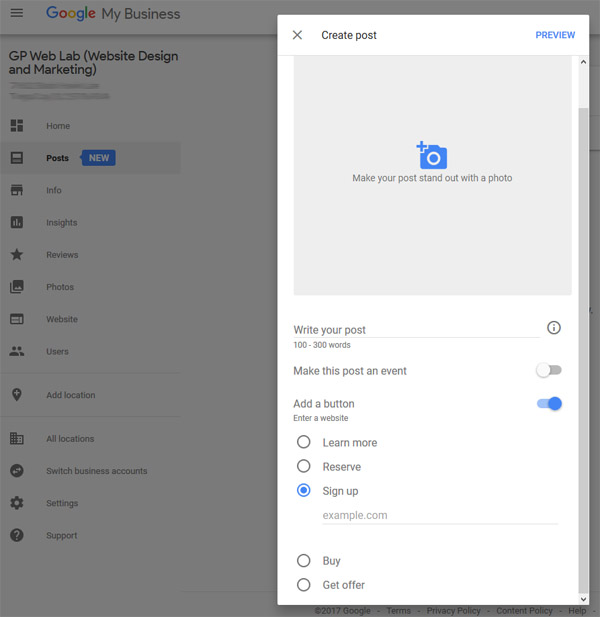 While Google rules the web you should not overlook other opportunities to be found online. Take a few extra minutes to add your business to Bing Places (the listing is free as well.)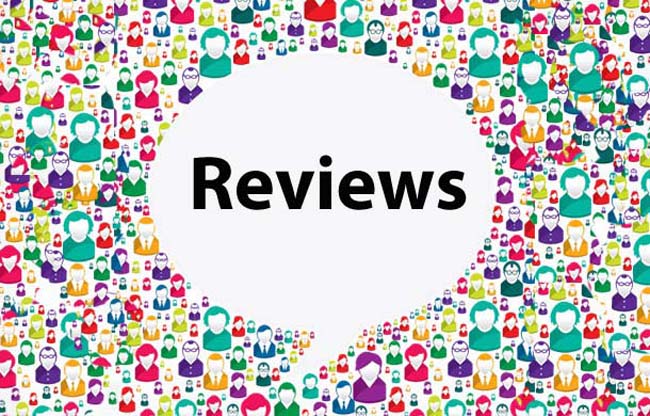 5. Reviews
The number and quality of reviews on Google Maps is one of the main ranking factors for "near me" searches (more about that later.) Reviews are the driving force of sales and local marketing. Most people would trust an online review as much as a recommendation from a friend. If your studio is already listed on Google Maps then start working on your review strategy. Google will also aggregate reviews from other sources including Yelp and facebook so generating reviews on those platforms will also add credibility to your business.
Luckily, Google's current Review and Photo Policies do not prohibit the direct solicitation of reviews at this point (unlike Yelp). You can not offer a service, product or payment in return but you can ask your clients to review your business.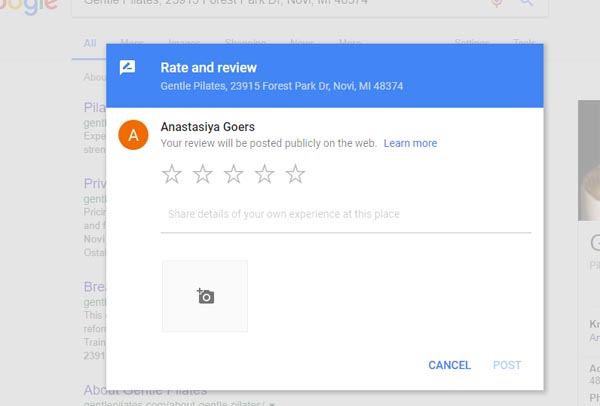 Send your clients a genuine email with a review link (you can generate one here) and ask them to leave a review for your business.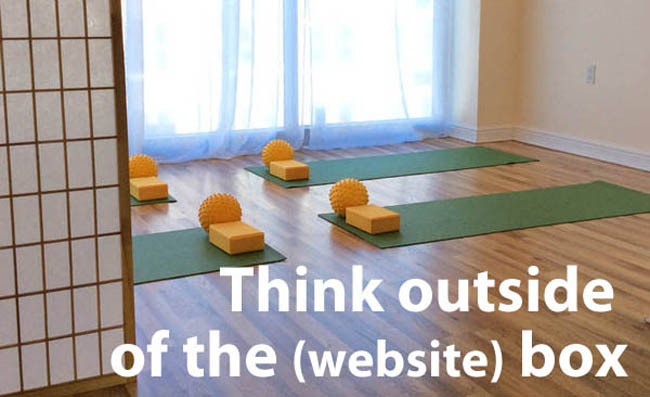 6. Focus on more than just your own website
If you search for a Pilates studio in your area most likely you will see a variety of results on the first page. You might see Yelp listings, local "Top 10…" articles, facebook pages, classpass articles etc. Perfect Posture Pilates, a Pilates studio in Astoria NY (photo above) has been featured in the NYC Timeout magazine several times. Even though the studio website does not make it to the top position on Google under "NYC pilates" search, the article "Best Pilates studios in NYC" in Timeout NY is the 3rd search result. The article gets plenty of clicks and the studio gets traffic and extra "authority" points.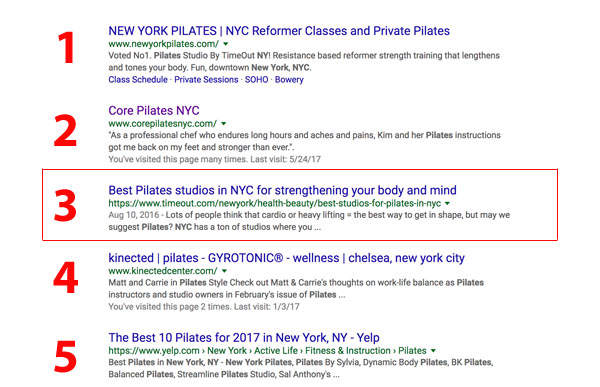 Think about ways to be included on any of those pages. You will get a link to your own website and a mention in a reputable resource to build credibility in the eyes of potential clients.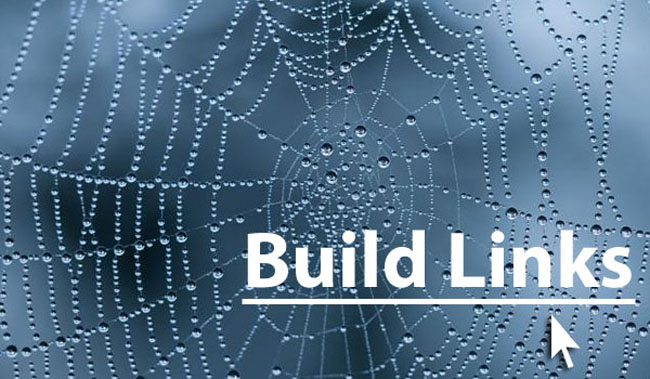 7. Links
Several years ago you could hear SEO advice that building links was not beneficial, even harmful to the rankings of the website. True, Google has been on a warpath against low quality spammy links that a lot of websites used to generate in the old days of SEO. Websites could be penalized and sent to the bottom of search results or even to Google sandbox. This aggressive strategy has sent fear among website owners and SEO specialists which resulted in the advice "Links are not important."
Quality links are as important as ever, especially for local businesses. They are part of the spider web that connects the websites and lets search engines build their databases of quality search results. I am not recommending buying links of any kind or paying somebody to produce 500 spammy links (this is a direct road to Google sandbox.)
Focus on building links from reputable resources:
Get listed on local Chamber of Commerce website
Get mentions in local publications
Links from local or Pilates-related blogs and websites
Get listed in relevant directories (start by submitting a free listing in the Pilates Finder on PilatesBridge)
Comment on relevant blogs. You can start by commenting on this article with your questions or feedback. Don't forget to use your website in the URL field.
Share your success story or Pilates experience/discoveries on Pilates training websites (Balanced Body regularly features teachers on their blog, so does BASI, Polestar and other teacher training schools.)
Be proactive in your link building strategy. Make sure that you ask the website administrator to link to your website, let them know what anchor text you want to use. If at all possible, opt for a link that includes your location and keyword. For example "NYC Premier Pilates Studio" or "In Balance Pilates, Boston."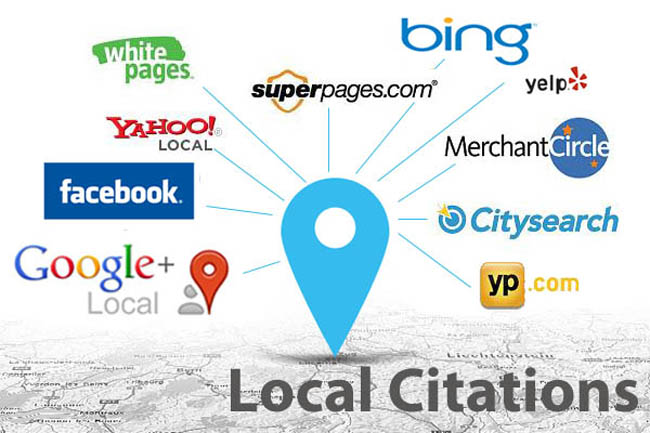 8. Citations
Citations are defined as mentions of your business name and address on other webpages—even if there is no link to your website. An example of a citation might be an online yellow pages directory where your business is listed, but not linked to. Citations can also be found on local chamber of commerce pages, or on a local business association page that includes your business information, even if they are not linking at all to your website.
Moz.com
You do not need to have hundreds of mentions in irrelevant and low-quality directories. Citations must be consistent between different sources. Focus on high authority citations sources relevant to your location and niche. Here is the list of best local citation sources for your city.
You can also check where your website is currently listed and whether citations are consistent by running this free citation finder tool.
After you identify directories that are most relevant to you website start creating profiles and submitting business details. Most of these directories are free to list your business in.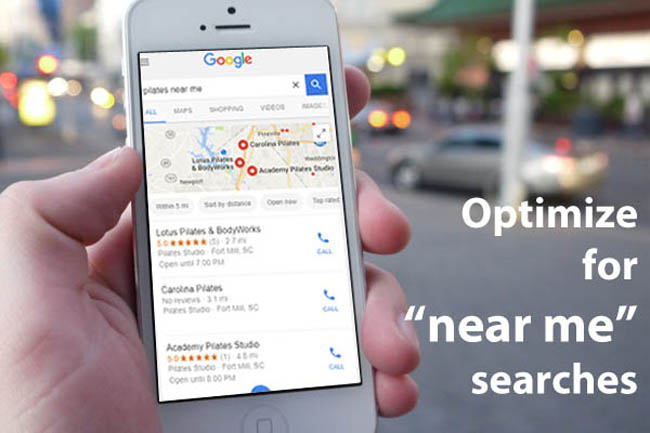 9. Optimize for "near me" searches
The most rapidly growing search term for local businesses today are the "near me" and "nearby" searches. This is due to the fact that many people use voice search or simply enjoy the convenience of typing in "near me" instead of their actual location. Google manages to spit out a very relevant list of local results. But what triggers does Google use to pull up these results?
Obviously, throwing keywords like "Pilates studio near me" in your website copy will not be effective because the results that Google gives are different for every location.
Local SEO Guide has analyzed major factors in ranking for the "near me" searches. Based on their research, a large number of backlinks (other websites linking to your website) with geo-optimized anchor text as well as a high number of reviews on Google My Business hold the most weight there.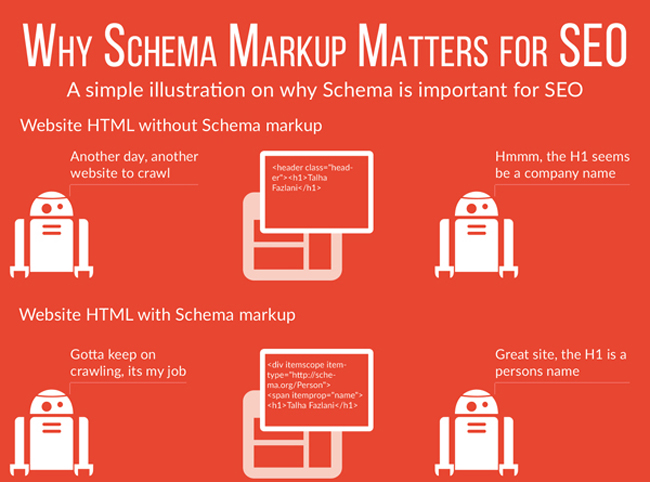 10. Schema markup
Several years ago Google, Bing and Yahoo have collaborated to create a special markup that helps structure content on websites and notify search bots about the types of content on web pages. On-page markup enables search engines to understand the information on web pages and provide richer search results in order to make it easier for users to find relevant information on the web.
Google has not officially announced that schema markup is used as a ranking factor but websites that utilize structured data see better click through rates (CTR up to 30% higher) and overall visibility.
You can see schema markup in action when searching for local events, news etc.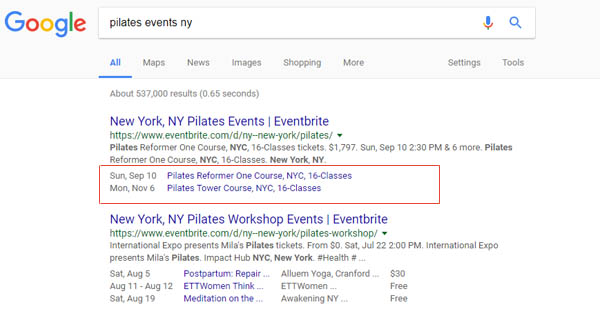 Right now, one third of Google's search results incorporate rich snippets, which includes schema markup. However, according to Searchmetrics, only 0.3 of all websites use schema markup.
You can check whether your website utilizes structured data markup by running a Structured Data Test. You will need a developer to help you add schema markup to the website.
Pilates professionals can use schema markup to rank better for the following content types:
Local business
Events
Articles
SEO takes time and patience. Most of the time you will not see any results (in terms of search engine rankings) from your SEO efforts for at least 3 months.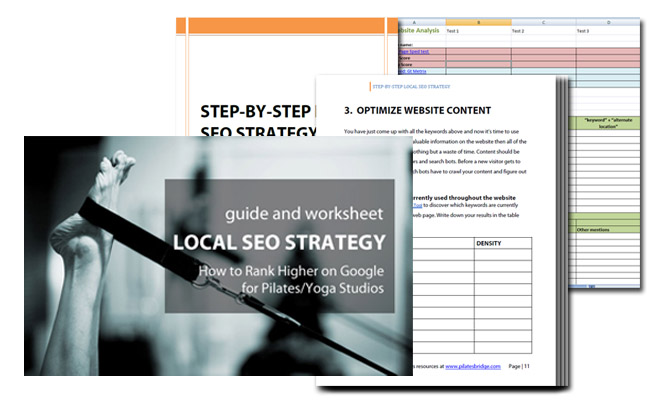 It's time for your first (and easiest!) SEO step:
Leave a comment below sharing your questions or feedback about the article.
Make sure to use your website URL and optimized anchor tag (your name or name + studio name) for the name field to generate the first relevant link to your website.
Did you learn a lot fro this article? Make sure to bookmark this page, save it to your Pinterest board and share it on Facebook.