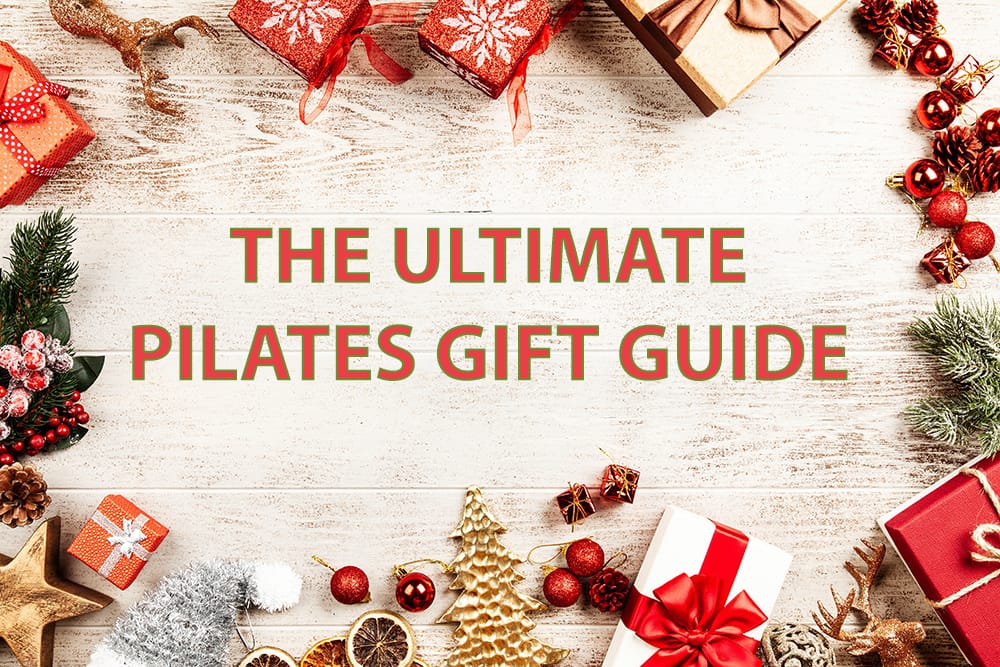 Do you ever find it stressful to think of the best presents to give your family members, friends, clients, Pilates colleagues or your teachers? This year you can breathe easy (yes, we are still talking "Pilates" here so keep your breath deep and calm) and steal one of the PilatesBridge gift ideas. You can find gifts for any budget and any person (sorry, no ugly sweaters here but we have cute "ugly" leggings!)
15+ Gift Ideas for the Holidays!
1. Keep Your Grip on Pilates!
Who said that socks are a boring gift? With fab designs and trusted supreme comfort, the holiday collections from ToeSox and Tavi Noir will be the most exciting gift that one can get! Put several styles together to create a unique gift "sock basket" that will help them keep their grip on the Reformer, mat or on their new year resolutions!

Tavi Noir and ToeSox Gift Box, $
Available at tavinoir.com and toesox.com
From the manufacturer: Wear Tavi Noir and Toesox grip socks during barre, yoga and Pilates workouts to get the most secure foot placement on the floor, mat, and all equipment. The high quality BPA-free grips have a plump texture that provides powerful grip strength and they won't fall off or peel off. Our grips are designed to last through many washes and physical wear while other fitness-focused socks just lose their stick.
2. Build Your Alignment from the Ground Up!
Healthy feet are the foundation of a healthy body. sFera Fit Feet kit helps to restore natural alignment of the foot while also providing complementary tools to strengthen the foot and release tightness. The kit omes in a gift box and includes soft silicone toe stretchers, firm mini massage ball and silicone toe corrector inspired by the original Pilates toe corrector invented by Joseph Pilates.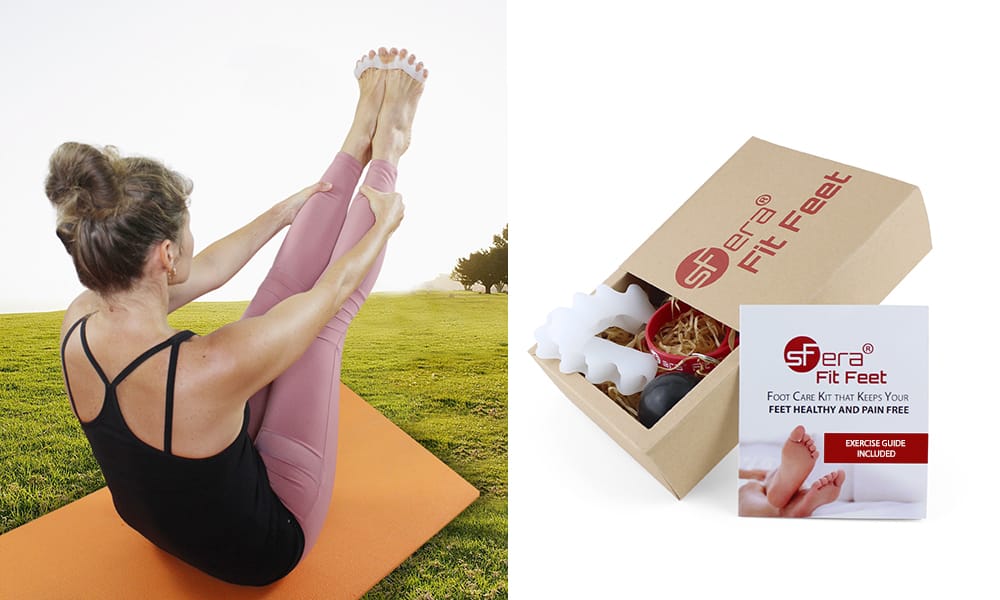 sFera Fit Feet, $
Available on Amazon
DEAL: Save 25% on Amazon if ordered before Dec 3rd with code SFFKGIFT
From the manufacturer: Toe separators and foot fitness kit designed to restore your feet back to health! The sFera toe corrector straightener set will pamper your feet and provide relief for your sore and tired feet. Relax with the toe spacers on your feet, roll out your feet with the foot massage ball and stretch apart compressed toes with our exclusive toe bands. Your feet will be pampered, healthy and pain free.
3. Superfood Nutrition to Jump Start New Year Resolutions
Giving a gift of supplements is not weird if it's the best tasting superfoods full of antioxidants, co-nutrients, enzymes, vitamins, minerals and amino acids. It's the best way to help someone start the new year right with their health resolutions or to fuel someone's passion for staying active!
MacroLife Naturals Complete Vegan & Collagen Protein + Superfoods for Kids & Adults, $$
Available at macrolifenaturals.com and Amazon.com
DEAL: Get 25% OFF with code Pilatesbridge25
From the manufacturer: Superfood formulas that use the best ingredients to ensure that you love your healthiest life. All MacroLife Naturals Ingredients are natural, organic, vegan, raw and gluten-free. Choose from complete MacroMeals that are scientifically formulated with an advanced blend of fast, medium and slow digesting proteins for sustained energy or superfood supplements that feed the body at a cellular level.
4. Let the Vibrance of Nature Guide Your Natural Movement
Best gift for the nature lover and adventurer! These pants feature high wide waist band for extreme comfort (with a back pocket!), vibrant nature colors and are made from recycled water bottles (about 25 of them!) The pants/leggings are cozy, durable and have a luxurious soft feel to them that you might not be expecting to get from the recycled materials. These pants are guaranteed to become the favorite wardrobe find of the year!

Contour Pants by Kind Apparel, $$$
Available at shopkindapparel.com
From the manufacturer: Contour Pants (yes, pants, not just leggings!) are not only super fun, colorful, and beautiful, but are made to last, won't stretch, are not even a bit see-through and are made in the USA from USA-made fabric comprised of recycled plastic bottles. We don't think it gets any better than that.
5. Self-Care Necessity!
Melt away daily stress, release tightness and roll away muscle knots using sFera massage balls. This portable set of massage balls is a compact alternative to a foam roller that easily fits into a gym bag or an office desk. Try using sFera massage before or after a Pilates session to relax the muscles and improve overall mobility.

sFera RLZ2 Massage Balls , $
Available on Amazon
DEAL: Save 10% on Amazon if ordered before Dec 1st with code RLZ2GIFT
From the manufacturer: sFera massage balls are made out natural eco-friendly rubber and come in different levels on firmness. Firm natural rubber massage balls provide soothing relief for all sore spots and muscle knots. Benefits of using sFera massage balls include better range of motion,improved posture and flexibility, injury prevention and pain relief (associated with tight muscles and trigger points.)
6. Nature's Antistress Solution for Your Body
Increase your body's natural defense system against varios stress factors with Adapta-Fuel. The unique formula uses the most potent adaptogenic herbs to facilitate healthy cell functioning, improve resistance to the harmful cellular effects of stress (which include defective functions, abnormal signaling, and premature aging and death), and thus preserve longevity by preventing premature cell death.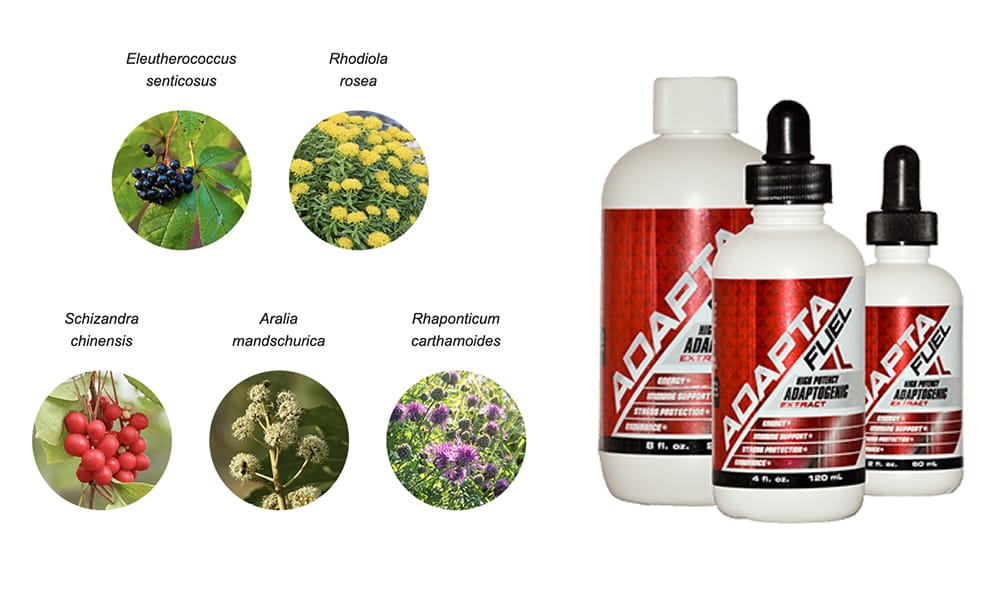 Adapta-Fuel, $$
Available at adapta-fuel.com
From the manufacturer: ADAPTA-FUEL is a synergistic blend of herbs called adaptogens. Taken daily, ADAPTA-FUEL may help you feel more energetic, support your immune system, experience better mental clarity and an overall improved sense of wellbeing giving you the endurance to power through your day.
7. Revolutionize the Way You Sit
Engaging the core while working at the office just got easier! The revolutionary design of the QOR360 chair is not only comfortable, but it also helps prevent/relieve back pain associated with poor sitting posture. Active sitting at its best!
Click here for full video review of the chair!

QOR360 Ariel Chair, $$$
Available at qor360.com
From the manufacturer: Sleek, compact, sturdy, and easily adjustable, our best-selling Ariel chair comes with feet and or casters for a design that best fits your work style. Powered by QOR360's patented Red Rocker technology, the Ariel makes sitting active rather than passive; and improves posture, core strength, and alertness. Our product has been created, tested and approved by a team of doctors, designers and body work experts. QOR360 lets you to find and embody your naturally perfect posture and increases core strength by engaging core musculature and increasing metabolic rate. The modern, 21st Century design looks great in home or office, is easy to clean and is perfect for staying active while task sitting.
8. Natural Superfood Nutrition for the Skin
These nourishing duo is packed with natural anti-aging ingredients to keep the skin young and moisturized. Fight the dryness of the cold weather months and prevent aging with these miracle products full of the nature's superfoods for the skin.
Anti Wrinkle Cream & Neck Cream, Anti Aging Face Moisturizer, Dark Spot Corrector for Normal to Dry and Mature Skin and Skin Firming Eye Serum Duo, $$
Available at belessence.com
From the manufacturer: Two popular products combined to treat your skin! The Bel Essence Anti Aging, Anti Wrinkle Cream is an easily absorbed moisturizer to help your skin maintain its health, and over time, encourage collagen production to smooth lines and deep wrinkles and evens skin tone. Our skin firming eye serum combines oils known for their anti aging and anti wrinkle properties for a powerful formula to firm delicate skin around your eyes, and reduce wrinkles and dark circles. The anti wrinkle cream and anti aging eye serum are a powerful combination for firm and smooth skin, and minimizing dark spots, lines and wrinkles.
9. Shades for the Ultimate Active Person
These stylish and uber-comfortable shades are guaranteed to stay afloat so even the most adventurous spirits out there will not lose their favorite pair of sunglasses.
Rheos Gear Floating Sunglasses, $$
Available at rheosgear.com
BONUS: Check out Rheos website on Black Friday to get BOGO deal on all styles!!!
From the manufacturer: Rheos sunglasses rival top brands in both style and quality, but have the added advantage of floating in water since they are 20 – 30% lighter than standard shades! No more losing sunglasses at the beach! Rheos feature premium polarized lenses that are scratch resistant, 100% UV protected, AND include a finish of dual-sided anti-fog coating for maximum clarity.
10. Bring the Cheer to Your Workout
Bring the holiday spirit to a Pilates session or anywhere around town. These soft and cheerful leggings will keep you comfy all day. Pair them with an ugly sweater and you have the best party outfit for the season!

Tipsy Elves Silver Leggings, $
Available at tipsyelves.com
From the manufacturer: Tis the season to be shiny. Sparkle your way through the holidays and into 2020 in a pair of Tipsy Elves Silver Leggings. They're perfect to add some shine and festivity to your Pilates classes over the holidays! Shine on and add a little pizzazz into your workout gear, just in time for the season.
11. Tea Time Any Time
Perfect gift for a tea connoisseur! Stay hydrated and warm while sipping on your favorite tea (herbal or regular) brewed right in this glass bottle. The unique double wall design keeps the glass core safe even when dropped due to the protective plastic shell. The plastic outer shell also keeps the fingers from burning when drinking just brewed loose tea.

Glass Core Bottle & Tea Infuser, $$
Available at zokuhome.com
From the manufacturer: Brew your favorite tea on the go! Easily brew loose leaf tea in your Zoku Glass Core Bottle. Our infuser is made from stainless steel, and is easy to assemble and clean.
12. The Ultimate No Tie Shoelaces
Stocking stuffer that anyone can use. Spend less time tying shoe laces and more time being active!

Caterpy Laces, $
Available at caterpy.us
From the manufacturer: No one likes to fumble around with shoelaces before or after a session, so make coming and going easier with no-tie Caterpy Laces! A runner created Caterpy Laces with elastic bump technology which turns your favorite existing athletic tie shoes into slip ons. The bumps also allow you to customize tension at every eyelet row to match your foot shape. Just lace the shoes as you normally would, adjust the tension at each eyelet row and the bumps hold the laces in place with no need to tie a knot at the top. The customized tension also allows for better blood circulation to the feet which is helpful as they swell during activity. The laces are one size fits all, so once the fit is perfect, any extra lace can be cut off or tucked back in. Caterpy Laces come in a variety of bright and fun colors! They can be found online, on Amazon or in retail stores across the nation.
13. Resistance Training Pants that Make Every Step Count
These sleek, breathable pants are a sneaky way to add more resistance training for any Pilates teacher or student. The pants are suprisingly comfortable and can be worn to a workout, for a walk outside or just around the house.

Agogie pants, $$$
Available at agogie.com
From the manufacturer: The AGOGIE Resistance pants have 8 resistance bands built into the pants with 4 in each leg, 2 in front and 2 in back. When you put on the AGOGIE resistance pants, the bands stretch out, creating passive resistance on your lower body. This activates your muscles, helping you burn more calories, build strength and tone muscles.
14. Most Comfortable Hat for Any Hair Day
Stylish hat designed for the active lifestyle and ultimate comfort. Whether it's a bad hair day that calls for a quick pony tail or a sweaty workout at the Pilates studio (the statement "You don't sweat in Pilates" is a myth!), with cute Ponyflo hat you will always look and feel your best.

PONYFLO HAT by D&Y, $
Available at ponyflohats.com
From the manufacturer: Created to alleviate the cumbersome task of trying to wear ponytail and bun styles with the traditional baseball cap (which are made with men in mind) where the opening at the back is too low and too small, making it uncomfortable and awkward. This hat was patented and created incorporating a tangle-free adjustable Velcro opening at the back, which is what makes D&Y's Ponyflo unique! Ideal for working out and casual wear.
15. The Essential Stretching Sidekick
Stretching strap is a great gift for a person who enjoys supported stretches and needs to work on flexibility. It's like having the heavy resistance band and a Yoga strap married in one! Use it to improve joint mobility, deepen stretches or add challenge to Pilates mat work exercises.

sFera Stretching Strap, $
Available at sferafitness.com
From the manufacturer: sFera Stretching Strap is the essential tool that will help you become more flexible, strengthen your core and take your Pilates practice on the road. The strap features innovative double-layer multi-loop construction with heavy-duty resistance band and a non-stretch nylon strap that provide both resistance and support.
BONUS: Give Them Something to Read
Books above are available on Amazon.
This article contains affiliate links to Amazon. Some of the items in this guide were received as samples from the manufacturers to be tested and reviewed. Top photo by Giftpundits.com from Pexels