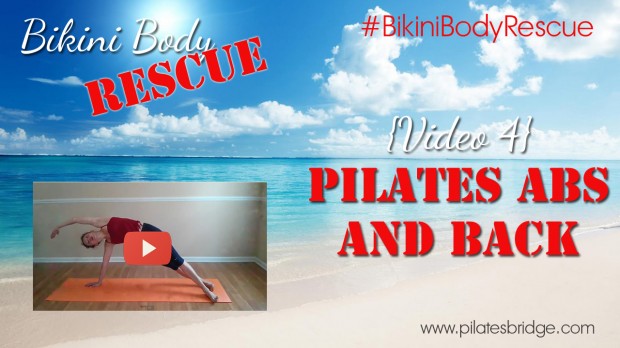 Congratulations! You have completed Week 1 of the Bikini Body Rescue program.
Today we are starting the second week with a brand new core workout that takes our Pilates practice to the next level.
Paying attention to the form and alignment is the single thing that you need to focus on during EVERY Pilates exercise to get the results. When I teach private Pilates sessions I always correct my students and help them find their perfect alignment in each exercise. Unfortunately, I can't do the same thing with you guys (unless we are doing a private Pilates Skype session) because I don't see you.
Starting today I want you to focus on 4 simple visual Pilates cues that you can use during any activity. This cues will improve your posture and help you access your deepest core muscles during every workout.
Helpful Pilates Cues:
Find your core corset. Right now (before you do the workout) turn your mental focus to your stomach. Put your hands on your stomach with your middle fingers touching your pubic bone.
Inhale through your nose and try not to let your stomach bulge forward. Think about expanding your ribs to the sides rather than lifting your chest up.
Exhale through your mouth and slowly start sliding your palms up towards your ribs. Imagine that you are zipping up a tight corset in the front of your body. When you zip up that corset you are also lifting your ribcage up and away from your hips to create the maximum spine length in your lower back area.
Inhale and try to keep that corset tight as your ribs expand to the sides.

Keep your lower back in neutral position which means maintaining a natural curve of the spine. Don't try to flatten your lower back into the floor and don't let it arch. If you have trouble keeping your lower back in neutral (you are feeling discomfort in your lower back) then take a small hand towel and roll it up under your lower back to maintain your neutral alignment.

Keep your shoulders relaxed at all times and away from your ears. Imagine that you are wearing long dangling earrings with sharp thorns at the ends. Don't let those thorns touch your shoulders.

Always grow through the crown of your head. When standing or sitting imagine that there is a string connecting the crown of your head to the ceiling. This string is always taut and it is gently pulling your entire vertebral column up creating more length in your spine. Keep this visual even when performing exercises in a horizontal position.

Share your thoughts or questions below. I am looking forward to chatting with you!