by Seran Glanfield
I'll bet you're wishing you had a crystal ball right now.
Yep – me too. It'd be great to have at least some idea for how this is all going to pan out.
Unfortunately, I don't have a crystal ball, but I do have another tool that can help give you some clarity and direction.
I love running Scenario Analyses whenever I'm helping studio owners figure out their next move.
Never done one? It's an exercise where you "try-on" different scenarios in different environments and see what your business or idea looks like.
It's a tried and tested tool that helps you figure out what will work in different scenarios.
I figured it might be useful to think through a few different scenarios and situations that may occur in the upcoming months. This will help you figure out what the future might look like for your business.
Scenario #1
You are open now (or opening soon). You are implementing all the required protocols and you are at (or reaching capacity) inside your studio.
Scenario #2
You are open, implementing all the required protocols, but you are very concerned that you will have to close again because of a resurgence in cases.
Scenario #3
You are still closed and your opening date is coming up (or getting pushed back)
Scenario #4
You have been open, you followed all the required protocols and you've had to close because of a resurgence in cases.
With these scenarios laid out – I want you to be prepared for whatever comes next.
As you're thinking through these scenarios, I think there are 4 things that will set you apart
A strong financial position
This is the time to review your pricing model. If you are in demand and you can't fit all your clients into your schedule with all the extra time you need between clients for your cleaning protocols, or if you've been thinking about changing your pricing – now is the time.If you continue to only teach virtual and you're not happy with your price point because you dropped it back in March – now is the time to rethink how you can bring your pricing in line.Now is also the time to get ruthless about your expenses. What are you spending money on that no longer serves you? Remember, no matter what happens from here, your business model has changed. You're not going to see the same number of clients inside your studio as you did in 2019 or even 2018! Financially prepare for what could come next.
Communication
This is a big one. For all of those who didn't fair well during the initial shutdown it almost always boiled down to communication. Both communication with clients and communication with your team. And not just communication during those few weeks in March, but the allclient communication that took place for the 3 months or 6 months prior to that. It was the ongoing nurture communication that was one of the biggest factors in determining whether clients continued on with virtual sessions or not and how clear and direct that communication was immediately post closing.Next time you have to make big pivots in your business, step into that role as a leader with a plan, and share that plan with your clients and your team.
Get Organized (be ready)
You want your website to be up to date (PilatesBridge: if you need help with the website check our exclusive PilatesBridge website services), you want your virtual booking schedule and enrollment streamlined, you want your team at the ready to take on more virtual sessions. Get organized ahead and you'll be able to seamlessly change gears and adapt if and (more likely) when, the need arises.
Ongoing Marketing
Now is NOT the time to drop your marketing efforts! Be sure to continue to share your message loud and clear. Be the pillar of hope, be the leader for your clients. Those studios and teachers who were consistent with supporting their clients and community, nurturing their relationships, and encouraging their clients and community to keep moving and make time for self-care retained their clients and guess what – many also got new clients on their schedule too!Now, if you know me, you'll know I'm not a pessimist. But equally, I don't want you to be blind-sided by what may come next.To continue to sustain your business, I encourage you to include virtual classes within your business plan and strategy for the immediate future – and put your energy into making those virtual classes a success.
Here's why you should continue with virtual workout classes:
Many of your clients won't feel comfortable coming back to the studio
Virtual sessions are more convenient for many of your clients (those with kids at home for example)
And, perhaps most importantly, in the event of another closure, you'll be ready to switch everyone to virtual at rapid speed without missing a single session
What you can do now to prepare your studio business:
You learnt some important lessons last time around and you are continuing to learn!
Be ready with your online pricing.
Be ready with your virtual schedule and packages – if they are different from your in-studio sessions. (If you want a pricing review – get in touch and book a strategy session)
Update your website with virtual and in-studio options – make it really clear and simple for clients to find what they need
Systemize your client onboarding to nurture your new clients and engage with them so that they feel valued (you will have new clients for your virtual sessions and they need some extra love!)
Double down on your marketing efforts – especially those that nurture your client list and win-back your old clients
I hope this has left you feeling inspired and with some clarity and direction.
What will you do to set your business up for long term success?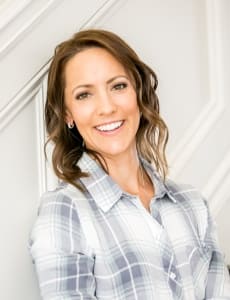 Seran Glanfield is a business strategist and Certified MINDBODY Business Consultant who works exclusively with fitness and wellness entrepreneurs to build more profitable studio businesses. Seran has worked with wellness businesses around the globe on brand messaging, marketing tactics, sales
processes, client retention strategies and management systems.

Through 1:1 consulting and her business and marketing membership community – Inner Circle, Seran mentors and guides Pilates business owners toward their vision with time-tested practices and strategic coaching advice.

She holds a BSc from the London School of Economics, is a Certified Pilates Teacher and a past member of the board of the Pilates Method Alliance. Seran lives in South Florida with her husband and three young children.

To find out more and get your FREE download: 30 Social Media Captions For Pilates Studios, go to www.springthree.com