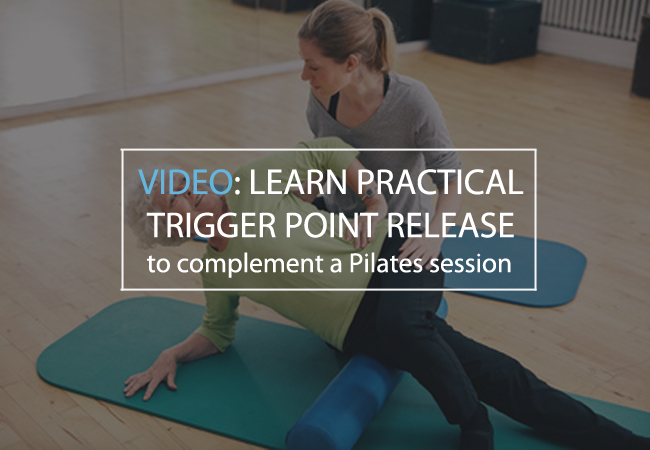 "My lower back is killing me. Will Pilates help me?"
"I have this nagging pain in my shoulder. Can we do some Pilates exercises for it?"
I've heard these and plenty more similar questions from my clients ever since I started teaching Pilates. Pilates professionals are often viewed as the magic workers who can do it all (and yes, Pilates can do a lot) BUT there are certain issues that no amount of Pilates will fix permanently.
A couple of months ago PilatesBridge published an article about the basics of Myofascial Trigger Point Release (read it here if you missed it) written by Marty Kestin. Today we are publishing a followup that includes a practical video that will show you exactly how to use self massage techniques to release trigger points in Infraspinatus and in Gluteus Medius.
What you will learn in the video
Introduction to Trigger Points and Myofascial Release.
Practical self-massage technique that can be used for most trigger points in the body.
Types of pain and other discomforts that respond to Trigger Point Release.
Tools to use for self trigger point release.
Relieve pain in the Shoulder – How to locate and release Infraspinatus trigger points.
Lower back pain relief by releasing trigger points in Gluteus Medius.
Resources mentioned in the video
Trigger Points are often the culprit of many muscle pains and aches. They can weaken and shorten muscles making regular strengthening and stretching exercise routines ineffective. Adding trigger point release routines to a Pilates session or teaching clients how to perform those routines as their "homework" can bring huge benefits.
Trigger Point Release is performed using simple tools that almost anybody can find around the house or at the studio. You will need a foam roller and a massage ball (tennis ball, lacrosse ball, solid bouncy ball.)
One of the tools that I personally like (and that is endorsed by PilatesBridge) are sFera Massage Balls (available through Amazon here) – it's a set of 4 massage balls of different sizes/density that can be used to reach the majority of trigger points. In the video I am using a small smooth sFera massage ball. The large sFera ball can be used in place of a foam roller to locate trigger points in the muscles.
About the presenter: Marty Kestin is the creator of the Ensoma Method – a unique form of bodywork that encompasses neuromuscular, movement and postural therapies of healing the body. Marty brings over 20 years of practice and training into this method. Apart from being a bodyworker himself, Marty also educates movement professionals and 'regular people' on how to use this technique to alleviate pain and heal the body.
Marty teaches trigger point release workshops in Pilates and Yoga studios in the United States. Contact him at [email protected] if you would like to bring his training to your location.