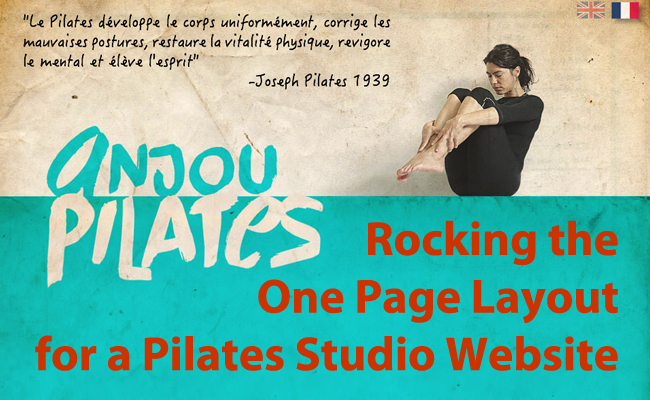 If you use Internet as much as I do then you have probably noticed a popular trend in website design. A lot of websites use single page layouts to present all of their information on one page. This layout is very convenient for the visitor because it eliminates the need to go from one page to another. All of the information is conveniently located on one page that you can scroll to your heart's content.
Single Page Layouts can be particularly beneficial for Pilates studios that do not have many pages to show. If all you need to do is display information about the studio, instructors, packages and contact details then one page layouts can definitely be a great solution for your business.
Follow along with the review of AnjouPilates.fr to see how to structure a single page website and what mistakes to avoid.
Resources mentioned in the video:
Important Takeaways
Website Layout:
Single Page Layout makes it easier for visitors to navigate your website and find the information that they need.
Single Page Layouts improve website performance on mobile devices because visitors do not have to load different pages (everybody LOVES fast websites.)
Single Page Layouts are ideal for Pilates home studios and small Pilates studios. These websites do not need to present a lot of information and can be easily broken up into several logical section: about, services (class descriptions), packages, contact/location.
Single Page Layouts MUST use images, lists and eye-catching fonts to break up the monotony of a one-page layout. Each section should stand out for the visitor instead if blending in with the previous one.
In your text talk about the BENEFITS that potential clients will get from Pilates and working with you in particular. Give your visitor a reason to contact you today instead of giving them a lengthy description of what Pilates is.
Use clear Calls to Action (buttons and links) to "direct" your website visitors to take the next step.
SEO (Search Engine Optimization) – Website Performance in Search Engines
Make use of the < title > tag and meta tags on your website to tell search engines what your website is about. These section are not visible on the website, ask your developer to edit those.
Ideal length for the title tag is 50 – 60 characters. Use your search keywords in the title tag, for example: Anjou Pilates – Private and Group Pilates Sessions
Ideal length of the meta description is between 150 and 160 characters. Use your target search keywords in this section as well. For example:
Anjou Pilates offers private and group Pilates classes. Experience the benefits of private Pilates training to reach your fitness and health goals in a safe way.
Make sure there aren't any errors in the way your website is built. Javascript errors will slow down your website and might break important elements.
Visual Presentation
Make sure that the website looks good and works well on mobile devices. Over 60% of Internet searches happen on mobile devices today. Fix any display issues and make navigation easy.
Add clear titles to all elements of the website. If you are showing a video then give it a title and a reason for your visitors to watch it.
Use Gallery section of the website to display images of the studio, classes, teachers etc. Gallery should give your website visitors a glimpse of what they can expect from working with you.
Use images in the About section – people want to know who they will be working with before they sign up for a session with you.
Please comment below with your thoughts/feedback about anjoupilates.fr or with any questions that you might have.