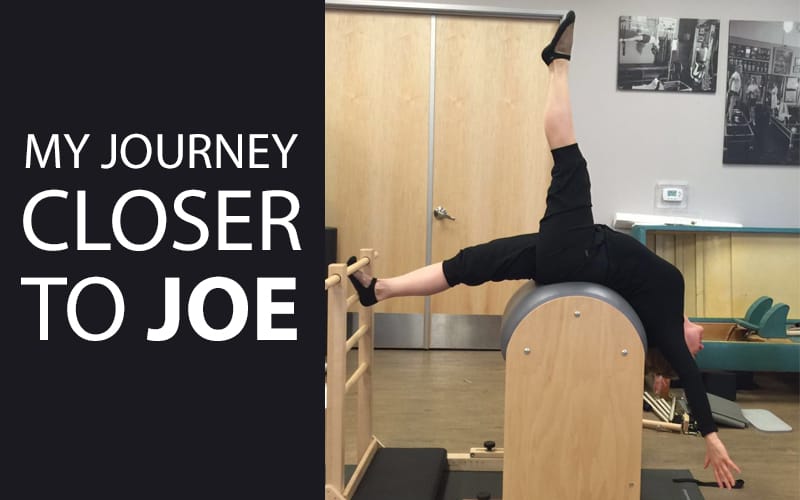 Me: "I hate this."
PS: "This is great! I love it!"
Me: "You're off your rocker."
PS: "But it makes so much sense."
Me: "It hurts my back."
PS: "It will be better tomorrow."
Me: "I'm not going back tomorrow."
PS: "Yes, you are."
This wasn't the first workshop that my friend PS had to drag me back to, nearly hog- tied, kicking and screaming. This was my first classical Pilates training back in 1990- something. I hated it. It was a weekend mat training, and I didn't know what I didn't know. All I did know was that it hurt my back and I hated it. At that time I had no idea how hyperlordotic I was. I already had a history of back pain (from having excessive lordosis, waitressing, and wearing idiot high heels) so I wanted nothing to do with anything that made it worse.
It hurt my back because I didn't understand neutral pelvis. My pelvis was anything but neutral. So any sort of pelvic clock business was totally exaggerated for me. What buffoonery! Being dumber than dirt in the method, I just didn't get it even though I had been involved in fitness for at least 10 years. In my defense, I had never taken ANY sort of Pilates training before this weekend workshop. I really had no business being there. But that is how these weekend trainings work. Anyone can come in with their wallet. But that is another article for another time.
(***Note: Fitness and Pilates are not equivalent! Just because you're amazing at fitness does not mean you will automatically be amazing at Pilates. It's like comparing apples and oranges. They are both fruit but…..)
With this horrible experience behind me (with a "certification" in Pilates mat – eyes rolling into the back of my head), a few years go by and Pilates begins slowly making its way into the fitness industry. I worked for AFAA (Athletics and Fitness Association of America) as a certification specialist and continuing education provider, so I knew people would be asking me about this "Pilates business." So I decided to go get some more training. I felt I wasn't getting the breathing right. Hahaha!!! Who was I kidding? I wasn't getting anything right!
So little did I know that I signed up for my first contemporary Pilates training! This mat training was 40 hours (the classical weekend mat training class was only 14 hours). I then moved on to take all of the apparatus training as well. Once I got on the reformer I was sold. I still didn't get it, but it was more what I was used to: pushing and pulling things against resistance. I wasn't crazy about the mat. Funny how I have come full circle to realize the mat is where it's at!
The original Pilates method, in this particular contemporary training, was somewhat poo-pooed on. We were told that all of the Pilates exercises originally were taught with a "flat back" and that was dangerous and was not good for your spine. We were told that the original method did not offer any modifications and that it wasn't suitable for every "body" as well as not being up-to-date regarding current research. But OF COURSE the method that we were learning was the best and the most up to date and researched method of Pilates exercises (or whatever kind of exercises some of those were). This contemporary method surely did have modifications. In fact, it had so many modifications one wasn't sure what the actual ideal exercise was.
We were rushed through each exercise as the exercises were just taught in book order. In this training (and also in the other comprehensive contemporary training I have taken), Pilates was not taught as a system. It was taught as here is an exercise. Here is another exercise and the next exercise and the next exercise. We were not able to practice an order again and again to get the exercises in our bodies so we could move on to the next level. In fact, there was no practice time. You were supposed to be taking private lessons to learn the exercises better not to learn the system and how to get the exercises in your body so you could better teach them.
I don't know how many times I cried in the parking lot after each day of training that I took with this company. And I wasn't out there crying alone. A couple of the master instructors talked down to you like you were some sort of idiot. I mean I was some sort of Pilates idiot then but did they have to make that so clear? Damn them! Nevertheless, I persisted.
I finished that training and opened my first Pilates studio in 2004. Being an education junkie, I wanted to learn more about Pilates, but I wanted to find a different education program. In 2007 I "accidentally" asked the person who helped write a national classical teacher training program who I should contact about continuing my Pilates education. I guess this was destiny as I had no idea she was involved with this company. It turned out to be no accident as I started all over again from the beginning learning the classical system. My master trainer and I still laugh about our first meeting. She said: "You didn't come down to talk to me. You came down and INTERVIEWED me." HA! And so I did.
The classical and contemporary trainings were SO DIFFERENT from each other! It was crazy! I loved it! I went with my friend "J" to all three levels of classical training over about 2 years. We got our asses kicked. It was great! I proceeded to sell off half of my contemporary equipment, buy classical equipment, and redo all of my offerings. And I kicked everybody else's ass! I watched bodies transform before my very eyes. It was magical. It is still magical!
In 2013 I decided to stop teaching exercise, sold off most of my Pilates apparatus, and moved 2300 miles across the USA. I was going to bartend and be a bum. Ummmm, well, in 2014 I ended up – by accident again – working at a contemporary Pilates studio since there really wasn't a classical studio in town or in the state for that matter! What did I do there? I started teaching classical Pilates to a select group of the clients in this contemporary studio. By doing this I also was seriously reminded of the differences between contemporary and classical.
At this studio there were people who had been coming for nearly 5 years and still did the 100 with legs in tabletop. I asked why they were still modifying the exercise when they didn't need to. They didn't know. Those in group classes had no idea how to set up their apparatus even though they had been coming for years. They didn't know the names of the exercises. What the ….=+=&)&*&)4#4-#;'?
This was when all the classical training that I had taken and practiced started to slowly sink in (I did say I was a Pilates idiot). I watched the movement of bodies with no connection to the work. I taught people that had no idea what the ideal forms of the exercises were. It was flabbergasting and frustrating. I was also known as the meanie that pushed people because I wanted people to advance. I mean, 5 years later and you're still doing the hundred with your knees bent and you have no medical issues? What??? I was the drill Sargent. I was the "New Yorker." (BTW, I'm not from NY! But I love New Yorkers so it was fine by me to be called that.) Ha! My story was that I was teaching REAL PILATES not a yoga-lates meditation class and just rolling around on the floor! It was so valuable to have had this experience and witnessing the contrast.
In all seriousness, teaching contemporary Pilates again made me start to realize the classical connections. It finally dawned on me what length and opposition meant. What the two-way stretch was and why you practice an order of exercises and get them in your body THEN move on. I was stunned that it had taken me over 15 years to have the lightbulb go on. Pilates Idiot.
I am very glad that I took all of the trainings that I have taken. And I am not in any way poo-pooing any contemporary training or any weekend training. All of these trainings have value depending on what arena you are teaching in, and what client or group you are working with. I use all my trainings all the time. I am so fortunate to have taken so many different trainings and to have a long-time background in fitness, martial arts and personal training to also add to my tool box. It's only taken me 20 years to overcome being and feeling like a Pilates idiot.
So what am I doing now? One thing led to another and I again have two Pilates studios – a fully equipped in-home studio and a large commercial studio. I have mostly classical apparatus and a few contemporary apparatus as well. I also give instructor trainings and write for a few online publications about Pilates. So much for bartending and being a bum! I guess I just needed a break and more sunshine!
But the most important revelation that I have come to is this: After all these years and all these trainings I have FINALLY decided that I need to move forward and stick only to trainings along one elder's lineage: Romana. It is what resonates with me. My Pilates journey is now all about fine-tuning and deepening the classical system as defined by Romana. I love it and I will continue to learn as much as I can so I am able to Carry The Torch to others in the fantastic system of Contrology!
Sabrina has been teaching movement for over thirty years. More than twenty years of that thirty she has spent certifying fitness instructors and designing and presenting continuing education programs for fitness professionals all over the world. Sabrina's passion is being a teacher trainer.
Her Pilates journey began in 2000 with the PhysicalMind Institute. She then moved on to Stott Pilates and opened a studio in NH, USA, in 2004. Still wanting more, Sabrina then bridged into more classical studies and became professionally certified through Peak Pilates. She then revamped her studio and transitioned into classical teaching but yet found great value in her PhysicalMind and Stott trainings.
Ever the student, Sabrina then took several other trainings which lead her to a position as Balanced Body Pilates, Anatomy in 3D and Barre Faculty. She now lives in sunny Santa Fe, New Mexico and owns two studios there: Los Alamos and Santa Fe. She continues her fitness career and teacher trainer passion as well as a Master Teacher Trainer for NETA (National Exercise Trainers Association).