by Seran Glanfield
Right now, maybe you're already back in the studio teaching, perhaps you're planning your reopening, or you might be stuck wondering when (if) that will happen for you.
Either way, what we know is this: the business you had before isn't the business you're going back to.
And, what we're learning is that once you re-open, there are a new set of challenges: From navigating the guidelines on social distancing to implementing new cleaning protocols to communicating with clients on what this new world inside your business looks like.
On top of that – the future will continue to be uncertain. With many predicting a second wave, and in some areas – businesses are already experiencing a second shut-down.
I want you to be prepared for whatever the future holds. 
By optimizing your business and looking forward to the many scenarios that lay ahead you can maximize all the opportunities that exist for you
So… what does the new normal look like?
Here's what I've seen and heard many studio owners experience:
You have many restrictions placed upon your business at the state, county and even city level. Those restrictions include reduced capacity, mandated cleaning protocols and the use of face-coverings.
Your clients have differing expectations for what you should be doing – and they will likely let you know their opinion.
Your revenue per square foot inside your studio will be lower than before and you'll might have waitlists for your classes. Or you might not. Honestly – I've seen it all.
Your time will be short, now your back teaching inside the studio, which means marketing and admin will get pushed to the bottom of the to-do list. Which is likely not helpful for your business in the long run.
Your teachers may not be comfortable returning.
And., you might be hearing rumors of future shut downs … which just adds to the stress!
Urgh – this is hard isn't it? But, my friend, you can do hard things.
Let's look at ways you can overcome these challenges.
Here's a checklist for you along with best practices!
Send Your Survey (And Then Send It Again)
You will certainly want to take the pulse of your client community and what they are thinking about returning.
You have a blank slate and you want to do what will bring your business the most revenue asap (most likely). If you can gather information from your clients, you will be in a better place to make the smart decisions.
Inside the Inner Circle, I put together a list of sample questions you can ask because I'm seeing a lot of questions being asked that aren't helpful to re-opening (you don't want to waste your clients time with questions that don't give you the info you need!)
Keep Live Virtual Classes
I strongly encourage to keep going with your LIVE online classes! Set them up as a hybrid class on your scheduling system (2 classes at the same time slot and double book your teacher).
You want to keep online classes as an option because that will increase your revenue per class and also maintain that as a habit for your clients in the event there are future shut-downs and restrictions that reduce access for your clients.
If you are creating a video library of classes to sell as Video On Demand – be sure to invest in a robust software that can host your content and charge for access. Beware – an on-demand video platform is a different business model – one that may need you to acquire a new set of skills and investment. So, if you are toying with this idea – it may not be as simple or cheap as it sounds (that's the feedback I'm hearing and what I know from working closely with online studios for the past 8 years – if you want help with this, let me know).(PilatesBridge: watch the free webinar on what it takes to run a successful Pilates on-demand website)
Change Your Pricing
If you were thinking about changing your pricing prior to COVID-19 then I would consider doing so now too. A blanket increase is one option, but you can get creative with new pricing options and different structures that incorporate both virtual and in-person options.
And – top tip – If you can offer the same class at home as in studio (e.g. yoga, barre, mat work) then you can charge the same for both class types. Yes – really!
Adding a recurring pricing option will help stabilize your income especially if your clients tend to be inconsistent. Lots of options here – I've been talking a ton about this with my members inside the Inner Circle too. Everyone is doing things a little differently and so it's important to do what works for YOU not what looks good for the studio down the street.
Digital Add-Ons
Now that you have a brand new service to offer (your online classes!) you can leverage that to the max! For example, your video library could be a great perk or incentive for your clients to join as a member vs pay-as-you-go options.
Add Props And Products As A New Revenue Stream
A great way to create some revenue for your business and make your classes more challenging and fun is to sell products and props that your clients can use in their new home gym! You can create bundles, brand them and even deliver them for an extra fee. Win-win!
PilatesBridge:
Our sister company sFera Fitness sells small props for Pilates studios and for individual practice. Wholesale pricing available. Here are 2 most popular items for studio retail:

Reformer Non-Slip Mat is available in two sizes classical and contemporary. The mat has non-slip rubber backing and soft faux-suede upper. It's machine-washable and is perfect for personal use.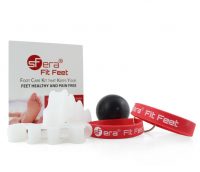 sFera Fit Feet Kit includes toe separators, toe corrector for home use and a small foot massage ball. This is a perfect kit for anyone who needs to work on their gait and foot alignment, relieve foot pain as well as improve balance.
Keep In Touch
Staying in close communication with your clients is a must. You'll want to text and phone regularly to ensure your clients are feeling well taken care of but also to get insight into what is working. Retention is the name of the game in 2020 and that is all about building relationships. But – avoid sending your automated emails… you might want to switch them off until you've been open a few weeks. Otherwise ALL your clients are going to get your We Miss You emails!
No-Shows Get Charged
With the decrease in capacity inside the studio, it's so frustrating when you get no-shows! It's a tricky one because obviously you'll want anyone who feels unwell to stay home! But, a clear
policy of charging for no-shows (especially when it's the same client over and over) will help your bottom line (And your sanity!)
Enforce A Cancellation Policy
To help maximize your in-studio revenue, you'll want to lengthen your cancellation period to at least 12 hours if not 24. That will help avoid those empty spots in your class and help keep the $$ coming in.
Finally, when there is this much work to do it's important you take time for yourself, take time to prioritize tasks and get clear on what you want and need to support yourself and your business.
Do not get distracted with a new business (a video on demand is a new business) unless you are fully committed to investing and continue to invest.
Do not pre-occupy yourself with what your competition is doing (they do not serve your clients – you do).
Do not get sucked into believing social media will save the day – the connections you build with your clients during your classes, via phone, email and text is what will help your business sustain itself!
Good luck!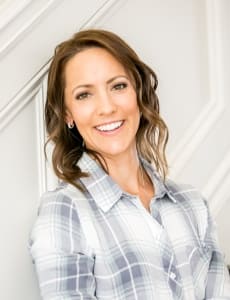 Seran Glanfield is a business strategist and Certified MINDBODY Business Consultant who works exclusively with fitness and wellness entrepreneurs to build more profitable studio businesses. Seran has worked with wellness businesses around the globe on brand messaging, marketing tactics, sales
processes, client retention strategies and management systems.

Through 1:1 consulting and her business and marketing membership community – Inner Circle, Seran mentors and guides Pilates business owners toward their vision with time-tested practices and strategic coaching advice.

She holds a BSc from the London School of Economics, is a Certified Pilates Teacher and a past member of the board of the Pilates Method Alliance. Seran lives in South Florida with her husband and three young children.

To find out more and get your FREE download: 30 Social Media Captions For Pilates Studios, go to www.springthree.com
Photo by Body Design Pilates